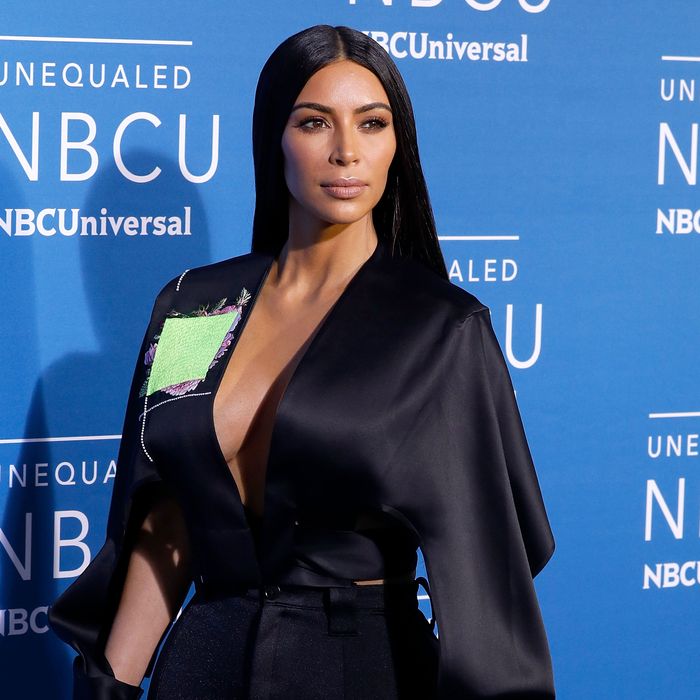 Kim Kardashian.
Photo: Taylor Hill/FilmMagic
On Wednesday, Kim Kardashian posted a number of videos and pictures of herself downing shots and posing stoically next to bottles of Casamigos tequila while on vacation, even though the reality star is known for abstaining from alcohol.
The posts were surprising, given Kardashian's distaste for alcohol and the fact that the images weren't accompanied by the requisite #ad hashtag that would indicate that the reality star was getting paid to promote the product. Her mom, Kris Jenner, even commented on one of the images that Casamigos was her favorite "taquilla [sic]," and subsequent articles about Kardashian's recent Bahamas vacation for husband Kanye West's 40th birthday repeatedly name-dropped Casamigos as well. So why was Kardashian shilling so hard for the George Clooney–Rande Gerber co-owned brand?
As it turns out, Kardashian's social-media endorsement of the brand isn't exactly that much of a mystery. While some wondered whether she was perhaps a new investor in the brand, or if she'd soon be named as its celebrity spokesperson, Entertainment Tonight noted that Kardashian and West actually stayed at the Bahamas house of Casamigos's third co-owner, Mike Meldman, during their vacation, which E! News notes would have otherwise had a $440,000 price tag.
We had no idea that there existed a third Casamigos co-owner — we just assumed it was solely a Clooney-Gerber bromance venture. But according to The Wall Street Journal, Meldman is a real-estate "party boy" whose resorts are known as "frat houses for families" with custom beer-pong tables, so his involvement with the brand makes sense. As for Kardashian, potentially posting non-ad images and videos of Casamigos as a thank-you for Meldman's frat-boy hospitality also seems like a no-brainer. Who could say no to posting a few pics and videos about tequila in exchange for a free stay in the Bahamas?