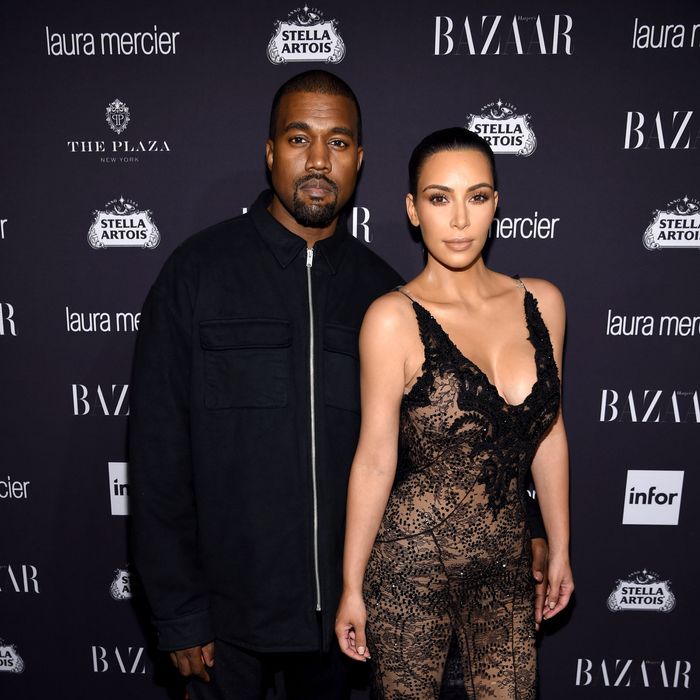 Kanye and Kim.
Photo: Dimitrios Kambouris/Getty Images for Harper's Bazaar
Kim Kardashian and Kanye West have reportedly hired a surrogate in order to have another child, according to TMZ.
Kardashian has been open about wanting to have another child with West, as well as her high-risk pregnancies. When pregnant with her first child, North, Kardashian suffered from the dangerous pregnancy complication preeclampsia, which is marked by high blood pressure and protein in the urine. She also had a serious condition called placenta accreta, where the placenta attaches too deeply into the uterine wall. And, when pregnant with her son, Saint, Kardashian was at risk of developing diabetes and gave birth several weeks early.
Recent episodes of Keeping Up With the Kardashians followed the reality star as she discussed the possibility of using a surrogate to carry a child and underwent surgery on her uterus in the hopes of being able to conceive herself. TMZ reports Kardashian and West found their surrogate through an agency, and have agreed to pay $45,000 in ten monthly installments. They gave the agency a $68,850 deposit, and will pay more money if there are multiple children or if the surrogate loses her reproductive organs.