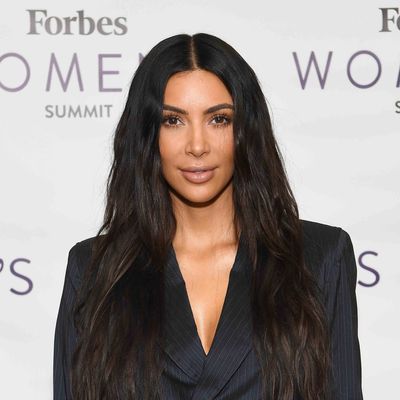 Kim Kardashian West.
Photo: ANGELA WEISS/AFP/Getty Images
Items from Kim Kardashian West's first solo makeup venture — KKW Beauty — won't go on sale until Wednesday, but last week she gave WWD a sneak peek. Her Creme Contour & Highlight Kit, whose campaign spurred accusations of black face, will cost $48. It consists of two dual-ended crème formula sticks, each equipped with two shades for contouring and two shades for highlighting — as well as a dual-ended tool for blending that WWD describes as "half sponge and half kabuki brush."
There's a method to this specific madness, Kardashian West told the magazine, in that these formulas and tools are engineered to deliver a (surprise!) lighter, more natural look: "[I'm] trying to mirror skin care with makeup," she said. "It's going to be a different vibe; it's not going to be a full color cosmetics [range] with shadows and all of that to start."
 
A concealer is scheduled to drop in two months, and what's to come after that is up in the air. "[I will] not have as many drops [as Jenner] and I don't have all the color kits that she does."
 
But that doesn't mean KKW Beauty won't make Kardashian West a ton of dough. If all goes according to projections, KKW Beauty could make Kardashian West $170 million richer in a single day.