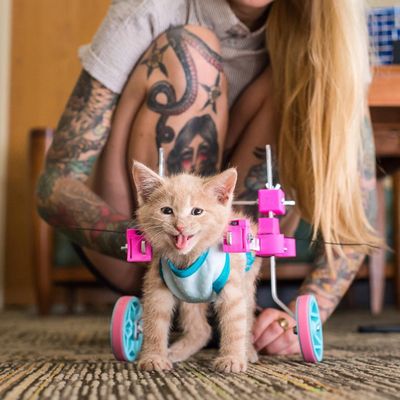 Chloe the kitten.
Photo: Andrew Marttila/Courtesy of Instagram/kittenxlady
If you spend as much time on Kitten Instagram as I do, you're probably familiar with Kitten Lady, the photogenic rescuer who plucks at-risk kittens off the streets, shepherds them through various convoluted medical crises, and cares for them until they are healthy and well-adjusted enough to be adopted into forever homes.
I didn't think anything could top last month's epic saga, when Kitten Lady rescued an ailing kitten from Machu Picchu and flew it to America so it could become an international street-cat ambassador with its very own line of merch. But readers, I was wrong: Kitten Lady's latest rescue might be her most heartwarming and dramatic yet.
On May 19, Kitten Lady rescued a six-week-old kitten with rear-leg paralysis from suspected abuse. Her name is Chloe.
The outlook was dire. (I'd advise you stop reading here if you are sensitive to sad animal stories). After being subjected to a barrage of tests, X-rays showed that Chloe's spine was crushed (likely from being stepped on) and that she could not use her bladder without it being manually expressed, which means every four hours our heroic rescuer had to physically squeeze Chloe's bladder until she peed. As Kitten Lady wrote in one of her many sad-yet-informative missives, vets "felt that her case is 'extreme' and her prognosis is not good — that she is unlikely to ever recover."
Still, Kitten Lady was determined to make Chloe's existence a happy one. She gave her a yoga mat to crawl around on, and a box to slide in, and a little crown, because she is a tiny kitten princess. Through my fog of second-hand (third-hand?) grief, I convinced myself that, even with her physical limitations and traumatic history, Chloe might still be able to have a rich, full feline life.
And Kitten Lady wasn't giving up. (She never does.) She took Chloe to four different specialists and put her on a barrage of medications and alternate therapies, including cold-laser therapy, red-light laser therapy, NSAIDs, PT, Prazosin, acupuncture, and Assisi Loop therapy. And if you're thinking, damn, that's a lot of money to spend on a kitten when most Americans can't even get basic health coverage, you may be right.
But look! A tiny cat-wheelchair prototype!
And then, suddenly: a miracle. "Chloe's first acupuncture experience exceeded our wildest expectations," Kitten Lady wrote. "She began to kick her legs, move her tail and stand up."
I couldn't believe it. It seemed that every time I opened Instagram, there was a new bit of good news. Next, Chloe regained partial use of her bladder.
She started to develop knee mobility.
And she got a tiny, custom-made kitten wheelchair with "hope" on the wheels.
Now that her leg function is starting to improve, Kitten Lady hopes that the wheelchair will be more of an "assisted walking device" to help with physical therapy.
Chloe really likes it.
As Kitten Lady so eloquently put it: "It's a perfect reminder that having hope is the way in which we propel ourselves forward. Hopelessness keeps us stagnant." In this cruel, unforgiving world, we have to hold on to small joys wherever we can find them.