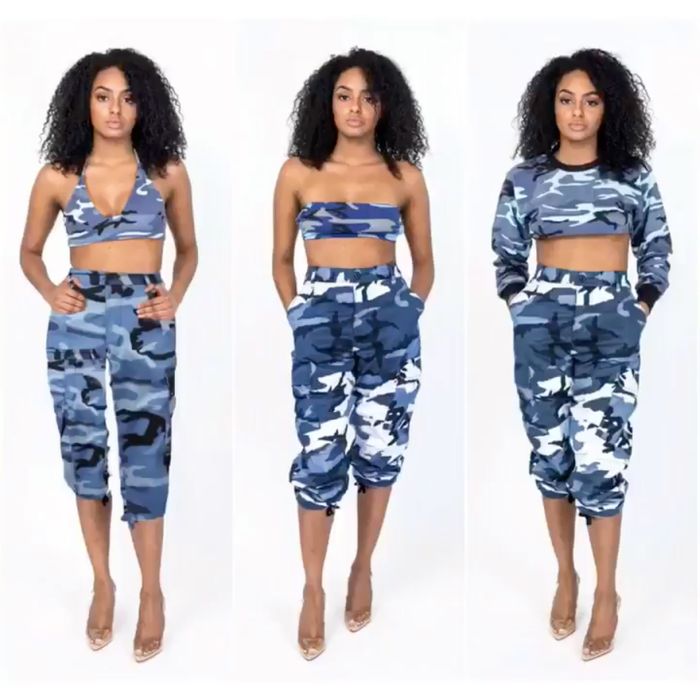 PluggedNYC designs.
Photo: PluggedNYC/Twitter
Kylie Jenner's business is embroiled in yet another copycat controversy. Her camouflage line, which released yesterday, was called out by PluggedNYC for being too similar to their camo two pieces and bathing suits. Standard fare for Jenner, but in an added twist, PluggedNYC has apparently provided clothes for Jenner in the past.
PluggedNYC creative director Tizita Balemlay posted an email exchange between herself and a member of Kylie's team asking for custom knit tops and other clothes on her Instagram story last night.
Balemlay also posted on Instagram a side by side collage of her collection and Jenner's. She wrote "I am the influence *drops mic. Copy & Paste down to the shoes I used on my models."
PluggedNYC's camouflage two pieces, the most similar outfit between the Jenner and Balemlay, have been worn by Rihanna and Keke Palmer.
This is hardly the first time Jenner has been accused of copying designs. She had a long-standing feud with makeup artist Vlada Haggerty for similar designs and images, and her flame-printed sweats are nearly identical to another brand's. So far, Jenner has not responded to the accusations.