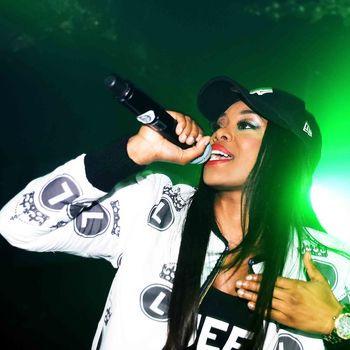 Lady Leshurr.
Photo: Tabatha Fireman/Redferns
This summer, every festival lineup and radio station will inevitably feature the same predictable artists. That's a Bop is our monthlong effort to introduce you to artists and songs beyond the top-ten list.
British rapper Lady Leshurr is a modern-day triple threat: She's fashionable, she's incredible on Snapchat, and she's a fire-tongued emcee who lists Nicki Minaj, Missy Elliott, and Lil Wayne as her biggest influences. Those three influences are hyperpresent on the funny, confident tracks Lady Leshurr (nee: Melesha O'Garro) puts out: she's mastered Nicki's reggae-inflected flow, produces Missy Elliot-sized beats, and evokes Weezy's ridiculous wit to deliver blows with each line.
In short, she's got the necessary tools to write a song about telling your wasteman ex to shove off so you can aggressively live your best life without them. Her single "F My Ex," is the ideal breakup song: an assertive, big-talking, big-bassed song that advises you to cross out your ex, and remember that you "don't need any man paying for [your] hair closure." Whenever it feels like time to engage in some light Instagram stalking, cue this up instead.
Her EP, Mode, is out now.