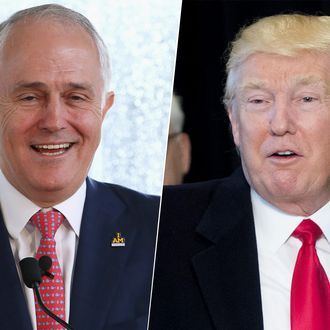 Malcolm Turnbull, Donald Trump.
While "if you can't say something nice, don't say anything at all" is a boring and outdated aphorism, "don't make fun of a fellow world leader to a room full of journalists unless you want it to get out," is always sound advice to live by. Unfortunately for Australian prime minister Malcolm Turnbull — and fortunately for everyone else — he didn't do that on Wednesday night, when he let loose at Parliament House's annual Midwinter Ball.
Though it's typically off-the-record, Nine News Australia's political editor, Laurie Oakes (who was not in attendance), leaked the audio of Turnbull's address, in which he can be heard explicitly mocking Trump's vernacular and grandiose claims:
The Donald and I, we are winning and winning in the polls. We are winning so much. We are winning, we are winning like we have never won before. We are winning the polls. We are! We are. Not the fake polls. Not the fake polls! They're the ones we're not winning in. We're winning in the real polls. You know, the online polls. They are so easy to win. I know that. Did you know that? I kind of know that. They are so easy to win. I have this Russian guy. Believe me it's true, it is true.

The audience can be heard laughing and clapping throughout.
Trump and Turnbull's relationship was initially testy: During a tense phone conversation in February, Trump called it "the worst call by far" that he had had with another world leader. But in early May, they had what appeared to be a congenial dinner on the Intrepid in New York City, and Trump sang Turnbull's praises.
Turnbull defended his speech, calling it a "good-humored roast," which was "light-hearted, affectionately light-hearted." Good thing that Trump has historically proven himself to be the kind of guy who can take a joke.