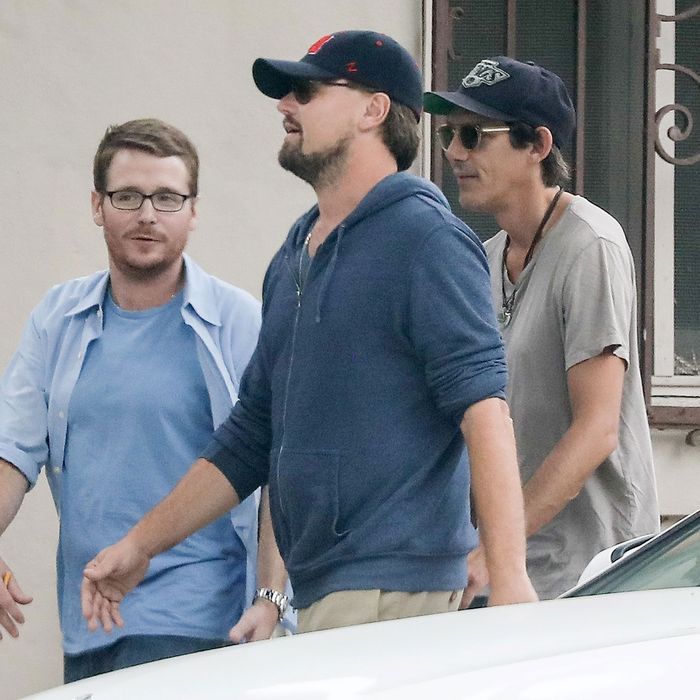 L to R: Kevin Connolly, Leonardo DiCaprio, Lukas Haas.
Photo: SPOT/BACKGRID
The passage of time is merciless and unyielding: It may appear to move slowly, until the day you wake up and realize that you've been swiftly and ruthlessly robbed of your youth. Take the members of the Pussy Posse, a group of actor friends helmed by Leonardo DiCaprio who spent their glory days of the '90s partying in clubs across the country and dating models. Today they're — well, they're still going to clubs and dating models in their 20s —- but they're also taking part in some tamer, more age-appropriate activities.
For instance, DiCaprio, Kevin Connolly, and Lukas Haas showed up to support fellow Posse member Tobey Maguire on Sunday when his 10-year-old daughter, Ruby, starred in a children's production of Beauty and the Beast. Magician David Blaine, who was a Posse member too, was also reportedly in attendance.
It's yet to be seen what sort of crisis this will kick off for Leo, since there's probably nothing like spending your Sunday watching a bunch of kids sing an out-of-tune rendition of "Be Our Guest" to make you realize exactly how old you are.