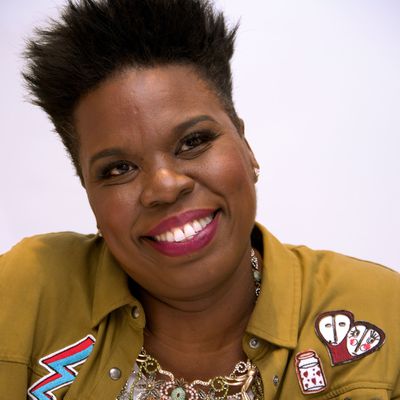 Leslie Jones.
Photo: Vera Anderson/WireImage
Much like when your mom asks about your love life, Saturday Night Live star Leslie Jones is fine with admitting that she's "kind of" dating someone right now, but that's all she's willing to share at the moment.
Jones appeared on Conan on Wednesday night, when host Conan O'Brien asked her about her February tweet, "I'm drunk and I want to have sex right now!" The comedian explained that she's still getting used to "this whole new fame thing," and that everyone had told her that "you get the fame, you get the money, you get the men," but it didn't seem to happen that way for her. "Men are completely scared of me," she told O'Brien. "I'm six feet tall, I got a big mouth, and I look like I might fight you."
O'Brien then asked Jones what exactly she's looking for in a man, at which point the comedian clammed up, before reluctantly explaining, "I kind of am seeing someone, but it's a secret, so I don't want everybody bothering him, you know what I'm saying?" She went on to say, "I don't want to sit on television and be like 'Oh the type of man I'm looking for' and then I talk to him and he be like 'Yeah I heard you was looking for this type of dude.' Don't get me in trouble!"
The one thing Jones would reveal is that she likes goofy guys. "I like a dude that makes me laugh, and it's not hard to make me laugh, it really isn't, because I like the goofiest dudes," she said.