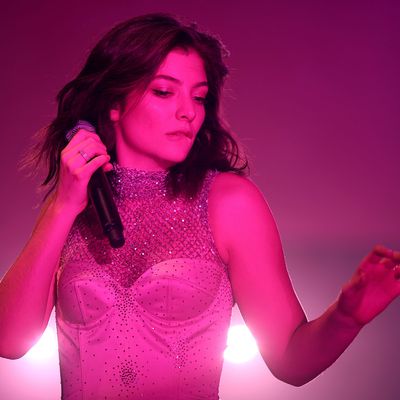 Lorde.
Photo: 2017 Getty Images
Remember when you were young and spontaneous, and you just wanted to go out all the time and get wasted and meet new people, and it felt like every night was pregnant with possibilities, like any party could be the one that changes your life forever? Listening to Lorde's new album — a concept album about a house party — reminds me of those halcyon-tinted nights, and it also makes me feel really, really tired.
In fact, a great litmus test for whether you're old and boring is whether listening to Melodrama makes you want to hit the town, or if it makes you really glad that your weekend plans involve doing laundry and rewatching the first two seasons of The West Wing.
For instance, this just sounds like a huge hassle.

I do my makeup in somebody else's car
We order different drinks at the same bars

Really, who needs the stress?
Baby really hurt me, crying in the taxi
That last drink might feel like a good idea now, but trust me, you're going to feel terrible in the morning.
Midnight, we're fading
Til daylight, we're jaded
We know that it's over
In the morning, you'll be dancing with all the heartache
And the treason, the fantasies of leaving
Oh god, do you know how many people's germ-filled hands have touched those bar limes?
Oh, God, I'm closing my teeth
Around this liquor-wet lime
Midnight, lose my mind
All these substances are going to wreak havoc on your long-term health.
Every night, I live and die
Feel the party to my bones
Watch the wasters blow the speakers
Spill my guts beneath the outdoor light
Wouldn't it be smarter just to wait and talk about things calmly in the morning?
You asked if I was feeling it, I'm psycho high
Know you won't remember in the morning when I speak my mind
Lights are on and they've gone home, but who am I?

Hooking up with a stranger can be fun, but is it ever as meaningful as being with someone you truly care about?
Every night, I live and die
Meet somebody, take 'em home
Let's kiss and then take off our clothes
It's just another graceless night
Socializing can provide external fulfillment, you'll never be truly happy until you're comfortable being alone with yourself.

All the nights spent off our faces
Trying to find these perfect places
What the fuck are perfect places anyway?

FOR GOD'S SAKE PLEASE DON'T DRINK AND DRIVE!!!!
Might get your friend to drive, but he can hardly see
We'll end up painted on the road
Red and chrome
All the broken glass sparkling
I guess we're partying
Is there anything worse than waking up after having people over and realizing that you don't have a single clean cup in the house?
Oh, how fast the evening passes, cleaning up
The champagne glasses
Not to mention the two-day hangovers.

And the terror and the horror
God, I wonder why we bother
All the glamour and the trauma and the fuckin'
Melodrama
Maybe you could stay home and watch Netflix instead? Just a suggestion.