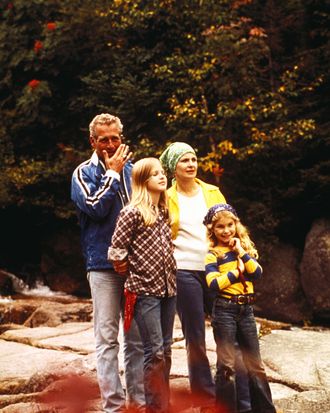 Cool dad Paul Newman with his family.
Photo: Bettmann/Bettmann Archive
Dads are categorically uncool. And yet lately, the pendulum has swung so far in the opposite direction that the dorkiest of dad attributes — dad jokes, dad hats, dad jeans — actually feel kind of cool again. You only need to look at Balenciaga as proof: Their last menswear show in January was an ode to Bernie Sanders, the ultimate dad-style muse. But what do you get for the dad who has genuinely good taste? The chic dad whose role model isn't Bernie, but Paul Newman back in the day, or David Beckham now? Just in time for Father's Day, consider this the Hip Dad Starter Pack.
Hanes T-shirts? Never. These are two-ply so they're not see-through and infinitely softer.
Toss a Burberry trench coat on any man and you automatically assume he's a British-accented charmer.
He doesn't always wear a tie but when he does, it's absolutely made of extremely soft Italian silk.
Beauty (and coolness) is pain and nothing hurts more than breaking in raw denim.
Because if your wardrobe is filled with fancy jeans and double-ply T-shirts, a standard briefcase feels far too stuffy.
Why wear a black suit when a houndstooth pattern is far more interesting? Be sure to tailor it so it's almost too snug and short enough to flash ankle.
He can't dive into his extensive rare-wine and craft-beer collections with just any old corkscrew and bottle opener.
Can you be cool if you're not hiding behind a pair of sunglasses? No, and these Prada ones are especially stylish with their aviator shape.
It takes a rare man to pull off jewelry beyond a single ring but aren't cuff links the same idea? These 18-karat gold ones are especially striking.
This buttery leather jacket feels like an especially rare vintage find and is a nice departure from the standard black moto.
The ultimate for any traveler would be a complete set of Louis Vuitton luggage and his own private plane to shuttle him anywhere in the world on a whim.
The perfect home for an AmEx card and a few Euros but never a year's worth of receipts.
Nothing is more "so uncool that it's cool" than white dad sneakers.
Tucked under a shirt sleeve, it's the ultimate power move when he casually flicks a hand out to reveal this watch.
Because you need a shirt to go with the prior watch and this immaculate white cotton one is especially luxurious.
Every suit needs a belt to look complete, and no one does leather better than Hermès.
You can also check out our ultimate guide on the best gifts for men.
If you buy something through our links, New York may earn an affiliate commission.