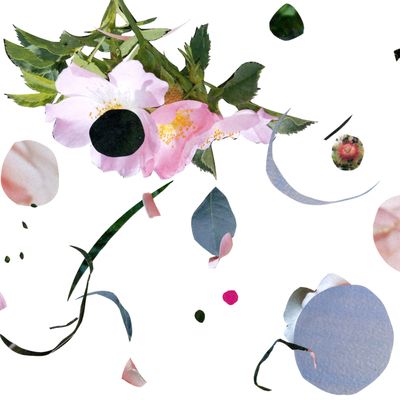 Get Madame Clairevoyant delivered every week.
Tomorrow, Venus moves into Taurus and Mercury moves into Gemini. Here, you can speak your mind and feel the words ring in your bones. Then Friday brings a full moon in Sagittarius, where you can find optimism if you need it, when you can let your beliefs grow whole and strong.
Aries: There are very good reasons to wear armor through this world, to keep your eyes on the ground ahead of you, to fortify this life you've worked so hard to build. And still, this is a week to imagine that the world could still be good. It's a week to let other people be good to you. You don't need to be this kind of open forever, but right now, in the place where you live, what could you do to believe in the world's potential for decency?
Taurus: The world may seem too boring this week, worn and dull and flat. Or else it might seem unrecognizable, strange and wild. Either way, you can learn to see it through new eyes. There is familiarity hiding somewhere in even the weirdest of times, and there are surprises waiting on the grayest days. Within you, even now, is the power to make your days new.
Gemini: It's a power and it's a gift to hold on to your own most intimate softness, but still sometimes it's easier to run from humanity than to embrace it. It's easier to disown every feeling you've ever felt than to sit with them. There will be moments when you feel weak, but you don't have to be scared. It's good to feel dwarfed by the size of your need. This is how a person becomes wise.
Cancer: There are people in the world who'd tell you to avoid all risk, people in the world who'd tell you there's no such thing as an acceptable kind of danger. But if the world has become dangerous, if the very sky carries in it the possibility of poison, how can a person live in total safety? The world fills with forces that are set against life, against hope, against the future, and accepting some risk might be the only what to stay true to what's good in you.
Leo: It's easy, sometimes, to create despair with your own body, to brew it in your head or in your guts. This week, don't let hopelessness let you off the hook. You don't have to retreat before the battle's been fought, and you don't have to guard against every imagined threat. Don't drop your beliefs before they've even been tested.
Virgo: This week, it's okay to think of the people you've been before becoming the person you are now. It's okay to think about the lives you've lived before finding the life you're living now. There's a tenderness here, something soft and raw, but you can forgive yourself for having once been so young. You can forgive yourself for having once known less than you know now. You've grown through pain and you've grown through joy, and now you're you, and you're here.
Libra: There's dew on the leaves and there's rain in the sky, and you're part of this big wild earth, but your body has its own needs, too. This week is for remembering to cut your nails, or remembering to bathe, or remembering to drink water when you wake up in the morning. Even the purest electricity in your mind needs food and sleep.
Scorpio: Just as we weren't made to keep taking from the earth and each other forever, we weren't made to give and give until we're left with nothing. There's nothing inherently selfish in valuing your own survival. And it's possible to survive without closing your heart to empathy and love, to be gentle with yourself without becoming hard to the world outside you.
Sagittarius: There are so many choices floating in the air around you, swimming through your dreams. And these possibilities are beautiful, glowing and good, but you can't touch them yet. They aren't solid, and they won't all last forever. This is a week for making decisions; it's a week for starting to move. Out of all the glimmering dreams you can see, which will you start walking toward?
Capricorn: Just like there are different ways for a plant, there are different ways for a person to grow. There are all these ways for a life to take shape, to move across time. You're a human person made of blood and skin, but this week, watch the green life around you. What vanished in wintertime, can come back again.

Aquarius: It can be so tempting to set your sights on some far-off vision of perfection, to believe there's some place in the distance where you'll never feel bored or lonely again. And what will you do if there's no endpoint, only motion? What will you do when there's no final balance to be found, only tension that never finally eases? It sounds tiring, maybe, but try to remember the freedom here. To try, to seek, to move — this is what hope is made of.

Pisces: Remember, there's something to be said for safety. If you can find them, there's something to be said for private spaces, empty spaces, spaces where you can make noise without being heard. It's okay if you need to retreat from the world's watchful eyes, to do the work on your own terms. There are people who will try to force you to perform your growth, or your grief, or your joy. This week, don't forget: You're allowed to say no.
Get Madame Clairevoyant delivered every week.