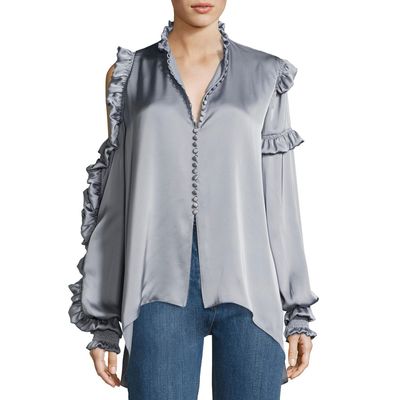 As a fashion editor, I see more clothing in a week than most people see in their lifetimes. That means that my standards for shopping are sky-high, and rarely am I as captivated by a blouse as I was when I encountered this Magda Butrym piece.
Magda Butrym first caught my eye because her brand has gained a cult following among fashion influencers who have mastered the off-duty look, including Yasmin Sewell, Kerry Washington, and Rosie Huntington-Whiteley. She has the magic ability to make feminine pieces that feel modern even when bedecked with hand-finished detailing.
Look at that cutout shoulder and those ruffles: This blouse has more twists and turns than a soap opera. The satin-covered buttons add a note of impractical luxury; they're hard to button, but hey, beauty is pain. And yet the relaxed fit means you can wear it all day, because too much pain isn't good for anyone.
Speaking of pain, it costs $1,105 at Neiman Marcus, but I'd argue that it's worth the investment. It's the kind of shirt that makes people stop me in the street, meaning my months of stalking paid off. Plus, there's one final plot twist: Depending on your size, you might actually be able to find it at 40 percent off on Net-A-Porter.
5 Other One-Shoulder Blouses We Like
If you buy something through our links, New York may earn an affiliate commission.