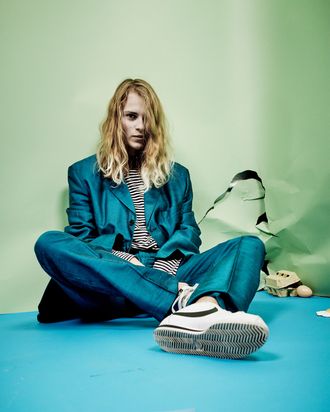 Marika Hackman.
Photo: Steve Gullick
That's a Bop is our monthlong effort to introduce you to artists and songs beyond the top-ten list. In Up Next we're giving you a deeper look at this year's up-and-comers, so when your friends finally discover them, you can honestly say that you prefer their first album.
Though probably not for lack of trying, Marika Hackman could be the first musician to put a song inspired by cult lesbian drama The L Word on her album.
"That was an inside joke between my girlfriend and I," explains the British vocalist of the song, titled "My Lover Cindy" (named after a character on the Showtime show who is referred to only in those terms). "At the beginning of our relationship, we were watching The L Word and we thought [calling someone] 'my lover Cindy' was so funny. We decided it would be a really great band name." The pair went off and wrote songs for a budding side project together. But when Hackman was working on her sophomore record, I'm Not Your Man, she used one on her own album. And her girlfriend wasn't exactly pleased.
"I felt really bad. It was the beginning of our relationship. But that early time is exactly what that song is talking about. You don't trust yourself and you don't know if you're going to be able to commit. You're having a really good time but you're very self-aware of the fact that you can be an asshole and feelings can just change and it's really terrifying."
Her girlfriend is still a bit mad about it, but — Hackman insists — she's a very understanding human being.
The same could be said about Hackman, or at least her songwriting, which is full of keen insights on her life as a gay woman living in a time period that has yet to truly catch up. Unlike her first record, We Slept at Last, her follow-up reveals a funnier side of Hackman's personality, one where she seems more at ease with talking about her sexuality. The album's highlight, a Built to Spill–adjacent grunge song called "Boyfriend," sees Hackman confronting men who sexualize queer relationships. "If I'm kissing a girl in a public space, the male reaction I've had on multiple occasions is, 'Can I join in?'," she says. "I find it really seedy and really inappropriate. It completely devalues the idea of the lesbian relationship."
I'm Not Your Man shines in its playful pronoun switching, stories of explicit sex, and the taut tightrope it straddles between what we might consider feminine sounds (Hackman's voice is soft and airy) and masculine sounds (much of the record is inspired by her teenage years listening to Nirvana). On "Time's Been Reckless," Hackman shouts through a repeated counting sequence that calls back to Toni Basil's cheerleading anthem "Hey Mickey" — "1, 2, 3, 4, tell her that you love her more / 5, 6, 7, 8, no more time, don't be late." Her strongest asset is her sense of humor, lampooning both society's resistance to change as well as her own.
Online, Hackman has become just as outspoken as she is in her lyrics. In the lead up to the recent U.K. election, for example, her Twitter account was peppered with a stream of political commentary — and she used the publicity around her record release to encourage people to vote. "That's the beauty of living in democracy and having freedom of speech," she says. "You want to be allowed to talk about whatever you want."
Hackman says she's been lambasted in the past for not being publicly political enough, which she takes issue with. "People have said to me before that it's my duty to stand up and address LGBT issues in my work, but I don't think it's really a duty. You have to feel really ready to do that." On I'm Not Your Man, she says she was in a "much more confident place" when she decided to include more intimate details about her sexuality. "I feel very vindicated now in making those decisions in the first place," she says, reflecting on the process of making the album. "After I wrote the record, I looked at it and thought, 'Yeah, fuck it. This is my life. And it's important to me.'"