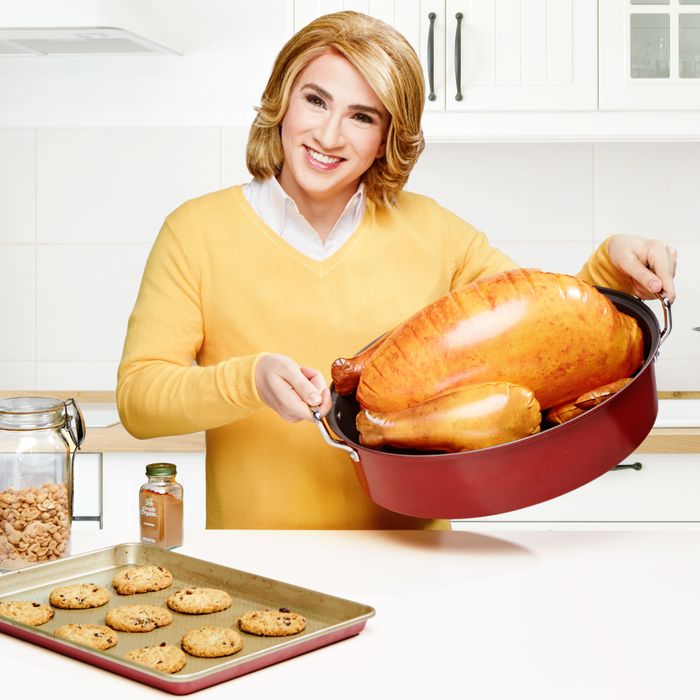 Ryan Raftery as Martha Stewart.
Photo: Brendan Burke
Ryan Raftery had already staged a musical about Anna Wintour and one about Andy Cohen when he was looking for another subject to round out his "Titans of Media" trilogy.
"What other titan — Andy is a very powerful guy, Anna Wintour is a very powerful woman — is on her level that I could do a show about?" he tells the Cut. "It really didn't take long to land on America's favorite purveyor of perfectionism."
On August 7, The Rise and Fall (and Rise) of Martha Stewart — a play about America's premiere lifestyle icon — opens at Joe's Pub, the result of nine months of intensive research and preparation.
The show begins with Stewart, played by Raftery, on the day she's to report to prison, tearfully saying good-bye to her chickens. We're then taken back to her youth and shown how a girl from Nutley, New Jersey, became the lifestyle icon we know today — all the way up to her recent rebranding and friendship with Snoop Dogg.
Intercut are 12 parody adaptations of music by artists like Beyoncé, Adele, Metallica, and Bruno Mars. For instance, Stewart's realization that she could monetize her skills comes during a dinner at a friend's when she finds herself appalled at her hostessing work, and bursts into furious song.
"Martha Stewart does not have pet peeves," Raftery explains. "She has psychotic hatreds."
Here's hoping for scenes of Martha tipsily riding around on a hoverboard and tending to her cats.
The Rise and Fall (and Rise) of Martha Stewart shows at Joe's Pub on August 7, 22, & 28, and September 11 & 12.