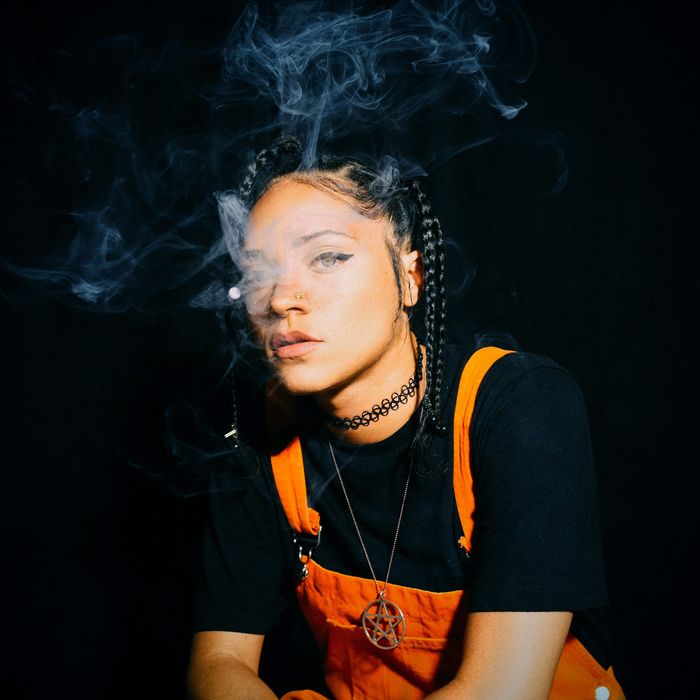 The Patron Saint of Ruckus
Photo: James Ellis
That's a Bop is our monthlong effort to introduce you to artists and songs beyond the top-ten list. In Up Next we're giving you a deeper look at this year's up-and-comers, so when your friends finally discover them, you can honestly say that you prefer their first album.
Everything about Toronto-native rapper Tasha the Amazon sounds legendary: "the Amazon" in her stage name, obviously, but also her alternative moniker, the Patron Saint of Ruckus — a title she's earned, since she's been known to pour vodka down audience members' throats mid-show. Since embarking on her solo career in 2014, she's waded through the Everglades with gators in Florida (for a music video, "Cry the Warrior"). She's yelled "fuck a Gucci sweater, watch it burn," and set a bunch of shit on fire with a flamethrower — also for a video, "Watch It Burn," but still, no less epic. Just listen to her most recent single — the growling, hard-core bass-thumper "Prayer" — and you'll be absolutely terrified. Totally amped, but also quaking in your boots.
Tasha, born Natasha Schumann, gets that a lot — that "I'm sort of scared of you" response. But she tells me (warns me?) that she's "the nicest person ever … to people who are good to me" when we speak on the phone.

She chose "the Amazon" as her stage name after coming across a 1960s cartoon about Amazonian women: "I thought, that's sick. That's my natural state. I'd probably be one of those Amazon warriors." Even as a preteen in Toronto — where, at 11, she was training to become a classical pianist — she couldn't deny that natural urge. "I loved classical music, but I was like, I'm skateboarding, running around, smoking, drinking, listening to rap, all this stuff, and that's when I realized I wanted to start producing and bring that knowledge of composition and classical music into a genre that I really love, which is rap." She also (like any skateboarding teen) loved punk music and the punk scene, and learned to play bass and guitar.
That combined musical history — classical training, love of hard-core punk, and rap — adds up to something like a darker, rawer MIA. Tasha, on top of being a fearless lyricist, is a meticulous producer who puts out grimy electronic hip-hop. There's an inflection of island patois (inspired by her Jamaican-German influence and her love of Toronto's Caribbean community). Her lyrics skew grim, almost anarchic, and wholly combative. (Truly, do not mess with her. She's coming for the whole world.) The beat pulses with a dark energy. The songs make you want to riot, but also just rage at a warehouse party — the venue of choice for the raucous, mosh-heavy Toronto rap scene she came up in. Her music is the perfect soundtrack for a molly-fueled bacchanal at the end of the world. Or Alexander Wang's next runway show.
In Tornoto, Tasha is a mainstay. Her 2017 EP Die Every Day was nominated for the Canadian equivalent of a Grammy, a Juno Award, for Rap Recording of the Year (the same category as Drake's Views, for comparison). But her ambitions are for world domination, or at least Hot 97 domination. She's ready to take her place alongside Danny Brown, and 21 Savage, and eventually, Kanye. When I ask her how she wants to change the game as a female rapper, she kindly dismisses the question.
"I think one of the reasons why you don't see more chicks in rap getting on the radio is because they're making their story about the fact that they're female. I get it, but that's a beginner mistake," she says.
"The best way to overcome that kind of barrier is to be inclusive, and so to me, if I make music that everyone — white people, black people, Asian people, girls, guys, gay people, trans people — likes, it's not really drawing attention to what separates us. We're all just dancing to the same shit. It's not about polarizing people into 'are you a dude or are you a chick?' It's just kind of like, 'Do you like this music and can we party?'"