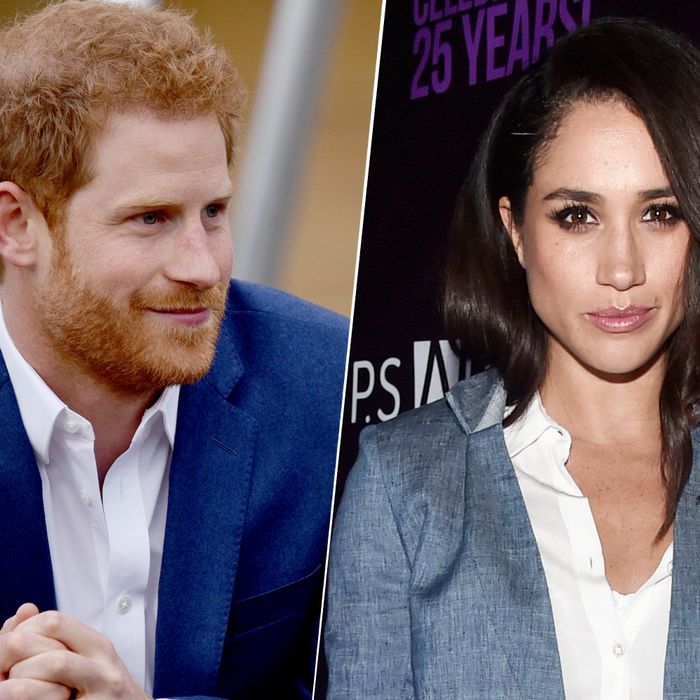 Prince Harry and Meghan Markle.
Photo: Getty Images
Last we heard of Meghan Markle and Prince Harry, the couple had stopped by Pippa Middleton's very British wedding reception, and we had also learned the royal ginger was taking his sweet time before popping the question. But what have they been up to since then? As it turns out — not much, just chilling.
E! News reports Prince Harry and Markle are currently hiding out at his Kensington Palace cottage (how quaint), where they've been "total homebodies." A "source" told E! News, "They've just been chilling at home. There's always someone watching or trying to get pics when they go out that they're pretty happy just staying in and doing nothing."
And apparently, chilling at home when you're living royally means pretty much the same thing as it does for us commoners. E! News notes that the couple has been cooking, watching movies, and "that kind of thing" (does that mean playing Scrabble?). One such movie, it turns out, was Disney's Moana, which they apparently watched during their last staycation.
However, Saturday marks what would have been Princess Diana's 56th birthday, so Prince Harry (but not Markle, it seems) will emerge from the love cocoon to honor his late mother's memory.