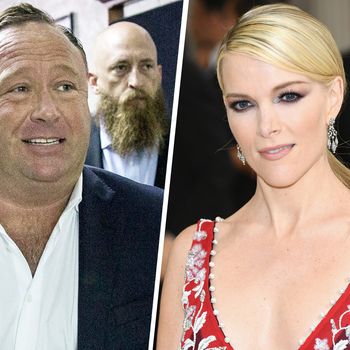 Alex Jones, Megyn Kelly.
Photo: AP; Getty Images
On Sunday night, Megyn Kelly's new NBC show is planning to air an interview she conducted with prominent conspiracy theorist and Infowars founder Alex Jones. That decision has already caused immense blowback: many (including Jones himself) have called on Kelly to not run the interview, J.P. Morgan Chase pulled their NBC News advertising, and Kelly has been dropped as the host for an anti-gun-violence group's event.
Kelly was slated to host the Sandy Hook Promise Foundation's annual Promise Champions Gala on Wednesday night. In a statement released on Monday evening, the nonprofit's co-founder, Nicole Hockley, explained that, "Sandy Hook Promise cannot support the decision by Megyn or NBC to give any form of voice or platform to Alex Jones."
Jones has been instrumental in promoting the conspiracy theory that 2012's Sandy Hook Elementary School shooting — in which 20 children were killed — was a hoax. He's both inspired and given a platform to fellow truthers, some of whom have gone on to harass the families who lost their children, as detailed in this 2016 New York Magazine story.
On Tuesday morning, CNN's Brian Stelter posted a statement from Kelly regarding the gala news, in which she says that she is "disappointed" that she won't be at the event. Still, she goes on to defend her interview with the explanation that, "Our goal in sitting down with him was to shine a light — as journalists are supposed to do — on this influential figure, and yes — to discuss the considerable falsehoods he has promoted with near impunity."