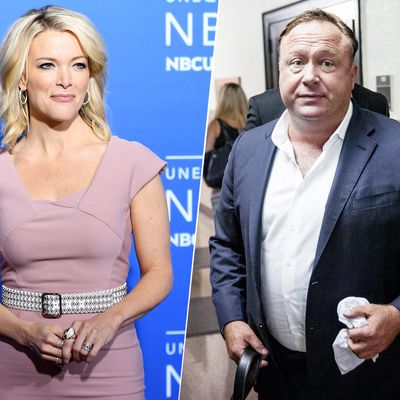 Megyn Kelly (left), Alex Jones (right).
Photo: Getty Images; AP
After the backlash over Megyn Kelly's upcoming Sunday interview with conspiracy theorist and Infowars founder Alex Jones, NBC News executives have reportedly been "scrambling" to overhaul Kelly's interview with the Sandy Hook massacre denier. According to "Page Six," NBC News has reedited the interview with Jones in an attempt to be "tougher" on him, and has also invited Sandy Hook families onto the program.
As "Page Six" reports, Kelly personally called Sandy Hook families to ask them to appear on her program as a way to counter Jones's claim that the massacre was a hoax. The move comes shortly after many (including Jones himself) called on Kelly not to run the interview, J.P. Morgan pulled out as an advertiser, and Kelly was dropped as a host for the Sandy Hook Promise Foundation's annual anti-gun-violence gala.
The upcoming episode of Sunday Night With Megyn Kelly will now reportedly include an interview with Neil Heslin, the father of 6-year-old Jesse Lewis, who was killed in the massacre. However, other Sandy Hook parents reportedly refused to appear on her program, as they "didn't think appearing on her show would do enough to counter Alex Jones' venom." Yet, a source told the gossip column, "Everyone on the show believes it's vitally important that the piece conveys the immense pain that Jones has caused the Sandy Hook families."
Jones has been instrumental in spreading the conspiracy theory that the 2012 shooting at Sandy Hook Elementary School in Connecticut — in which 20 children were killed — was a hoax. He's also played a key role in inspiring and giving a platform to other truthers, many of whom have harassed the families of the victims, as detailed in a 2016 New York Magazine story.
Jones reportedly took issue with Kelly's interview, as he thinks it makes him look bad. "Page Six" reports that he announced on Thursday night that he secretly recorded the sitdown with Kelly because he "knew it was all crap." A few hours later, he released the recording in a video online, after explaining, "I've never done this in 22 years, I've never recorded another journalist, but I knew it was a fraud, that it was a lie."