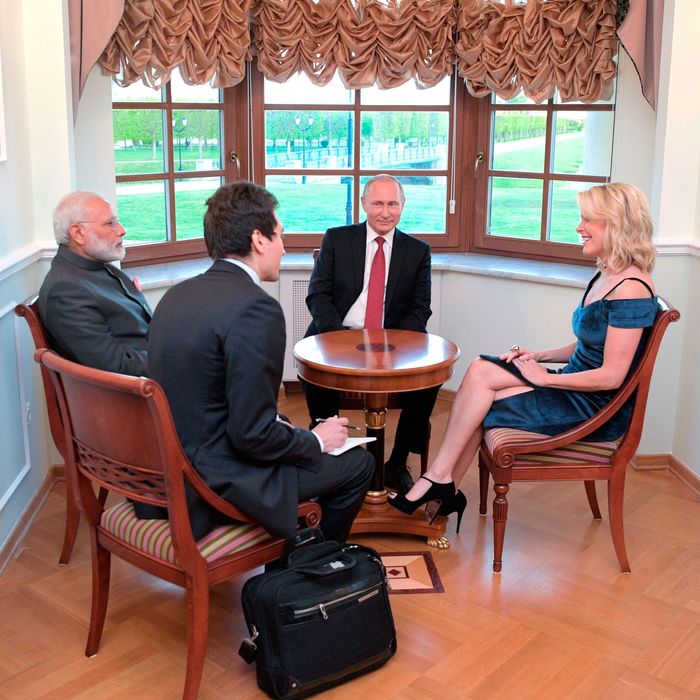 Megyn Kelly with Russian president Vladimir Putin.
Photo: Alexei Druzhinin/AP
For her first interview as an NBC News anchor, Megyn Kelly has landed a big kahuna of a subject: Vladimir Putin. It would be a big "get" for any reporter, but it's especially monumental for Kelly, since she's attempting, with her new role, to leave the partisan ugliness of Fox News behind for the greener pastures of mainstream media celebrity. But threatening to eclipse the talk about her first "get" has been the befuddlement over what she chose to wear during the interview, which airs Sunday night.
Promo images show her in an off-the-shoulder blue velvet cocktail dress with a significant slit, accessorized by slinky, open-toed stilettos and a gold ring the size of a gumball. It's the kind of attire you might see at a holiday party or a high-school dance, less so around a conference table. (The dress, by designer Yigal Azrouel, retails for $990.) Entertainment Tonight trumpeted, "Megyn Kelly rocks an off-the-shoulder velvet dress for her interview with Russian president Vladimir Putin," while the Daily Mail, a frequent and enthusiastic critic of Kelly's, covered the look in predictably forensic detail: "The velvet sheathe [sic] flattered her physique with its calculated darting while the off-shoulder neckline provided for a subtle and sexy sense of sophistication."
In making a sartorial choice like this — one that draws attention to her own appearance over her interview subject — Kelly seems to be at odds with her mission to leave partisan cable behind and become a broadly palatable star in the mold of Diane Sawyer or Oprah, whom she's reportedly cited as an inspiration. But looking back at her style over the years, it's not as out-of-character as you might think. Like her fellow female Fox anchors, she favors dresses (the network actually banned female hosts from wearing pants on-air until recently), but she has always gone a little more, shall we say, directional — opting out of the jewel-toned sheath uniform, especially once she got her own show, and steering toward black and white looks, cutouts, hardware, leather dresses, and shoulder-baring. She's also tried to play in the fashion sandbox, wearing Altuzarra and a heavily embroidered Badgley Mischka to the past two Met Galas.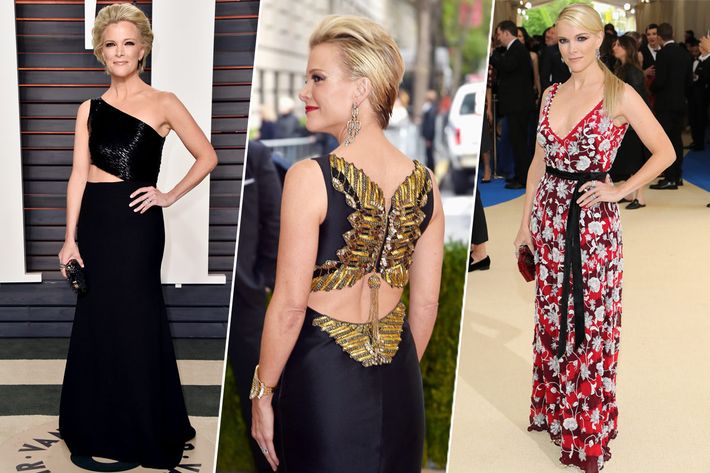 And profiles of Kelly have inevitably focused on her fashion and her looks (less discussed in these types of stories are things like her insistence that Santa Claus is white or calling pepper spray "a mere food product.") She summed up her style to the L.A. Times as "tailored, classic and never frilly," adding, perhaps to set herself apart from her channel mates, "I'm not big on the hot pinks, bright reds," or on statement accessories. For a job interview before she was famous, she bought a thousand-dollar Dolce & Gabbana dress for a job that paid $17K a year. And for her first White House Correspondents' Dinner in 2004, she recalls in her book Settle for More that she calculated her outfit accordingly: "I wore a hot pink dress, because I realized no one would know me, and I wanted to stand out." Kelly has never had trouble admitting that she is a woman who is cunning about using style to get attention.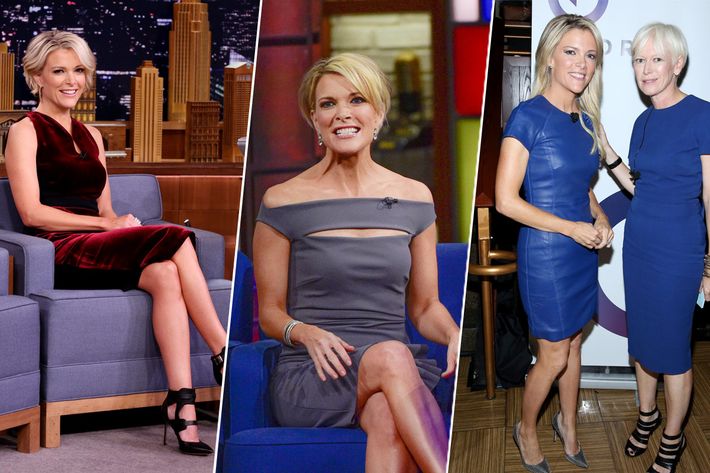 Her wardrobe choices have elicited fiery responses before. After she wore a spaghetti-strap dress to the RNC this summer, people were quick to say she resembled an "escort," or looked like she was wearing a bikini. She later told the New York Times, "'I can be smart and challenging while I wear spaghetti straps, and everyone is just going to have to get their heads around that.'" It seems Kelly has decided to weaponize that prurient reaction, and then retrofit it as empowerment, harnessing our current vogue for shouting down "shaming" of all kinds. She knows we're going to be talking about her fashion anyway, so why not get some traction out of it? Perhaps it means more people will be watching Sunday night.