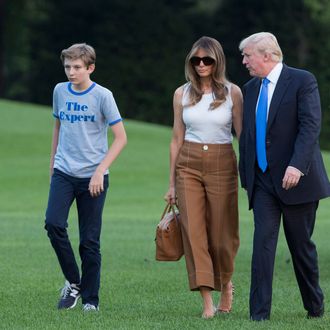 Barron, Melania, and Donald Trump.
Photo: Pool/Getty Images
Should you doubt the appeal of awkward pants, the look has claimed its newest convert: Melania Trump. Her Bally pants, which retail for $575 but are on sale now for $460, are actually pretty alluring if you're already a devotee of the look. They're in a rich-looking shade of camel brown, and the white contrast stitching is a cool finishing touch.
But she isn't quite pulling them off. Note the blowout and the animal-print stilettos. She's trying to be sexy, not awkward, which kind of misses the point. So don't throw out those Jesse Kamm sailor pants in horror just yet — even Melania can't kill this trend.