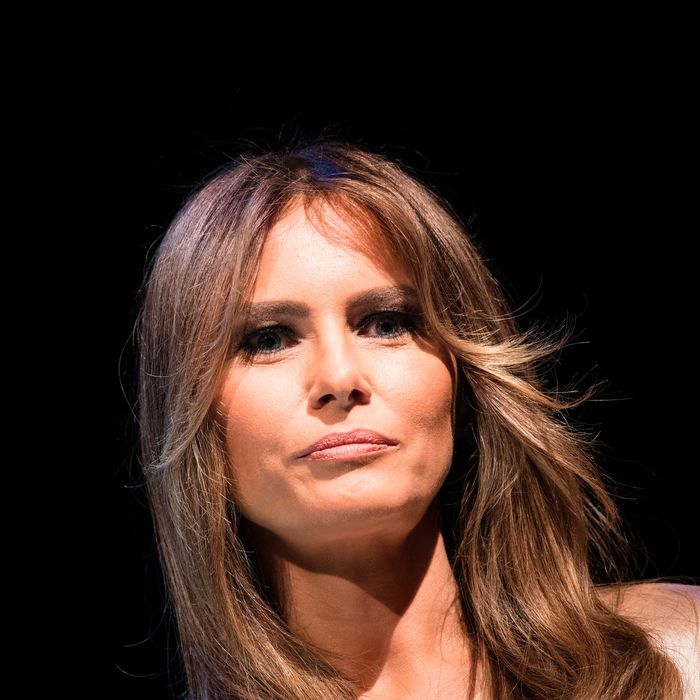 Melania Trump's hometown is seeing a tourism boost thanks to her husband's presidency.
Photo: BRENDAN SMIALOWSKI/AFP/Getty Images
Aside from some subtle hand gestures and Twitter sub-faves, Melania Trump's time as First Lady has so far been pretty uneventful (anti-cyberbullying campaign? What anti-cyberbullying campaign?). But back in her hometown of Sevnica, Slovenia (population 5,000), her time in the White House has reshaped the entire tourist industry.
According to an NPR report, for the very reasonable price of $90 per pair, tourists can go on a Melania-themed walking tour of Sevnica, complete with stops at the boarded-up factory where her mom designed children's clothes, her elementary school, her first apartment, and her parent's house.
In fact, there are now "several" Melania-themed tours offered by the Sevnica municipality, along with First Lady–brand wines, chocolates, salami, teacups, and face cream. A local café sells "Melanija torte" (white chocolate mousse, nuts, and edible gold), and another offers "First Lady Apple Pie." The town's shoe store has started selling "White House slippers," and its owner says it's almost sold out.
"A lot of people are coming from Europe, Japan, China, and the U.S.," said Lidija Ogorevc, a local tour guide. Demand for tours is up 30 percent from last year — "from an anonymous little town, we are now on the world tourist map," she added.
And then there's Melania's husband, whom the townspeople don't really like to talk about. "Melania was raised here, she used to be our neighbor," said Sevnica mayor Srecko Ocvirk. "Yes, she's President Trump's wife, and that's what she's known for. But we want to focus only on her." Which, as marketing strategies go, seems pretty savvy.