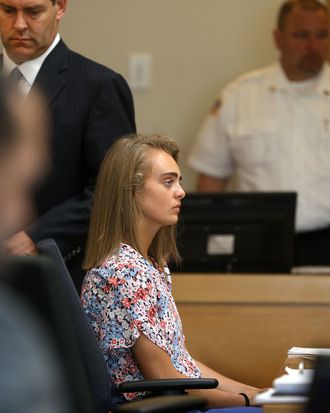 Michelle Carter in court in Massachusetts.
Photo: Pat Greenhouse/Globe Staff/Boston Globe via Getty Images
On Friday, Michelle Carter — the woman who in 2014 sent her boyfriend, Conrad Roy, hundreds of texts urging him to commit suicide — was found guilty of involuntary manslaughter. Carter had previously waived her right to a jury trial, leaving the decision up to Massachusetts Judge Lawrence Moniz.
Roy killed himself on July 12, 2014, by breathing in carbon monoxide while he sat in his truck. He was communicating with Carter at the time; when he told her he'd gotten out of the truck and was scared, she texted him to "get back in."
Bristol Assistant District Attorney Maryclare Flynn argued that Carter egged Roy on because she wanted to play the "grieving girlfriend" to boost her own popularity. Flynn called Roy "a pawn in [Carter's] sick game of life and death" and argued that she'd engaged in "wanton and reckless conduct," which met the standard for involuntary manslaughter. "She reasoned him out of his reservations … She mocked him when he chose to delay his death," Flynn said.
But Carter's attorney claimed that she'd tried to talk Roy into getting help for months, but that two weeks before he died, she experienced a "transformation" set off by antidepressants she was taking and "came to believe the best way to help him was to encourage him to carry out his plan to kill himself," according to the New York Times. They listed her other "frailties," such as an eating disorder, anxiety, and a tendency to self-harm.
They also pointed out that, in October 2012, Roy had told Carter he was going to commit suicide, but in that instance she talked him out of it, writing "You have so much to live for please don't," in a Facebook message.
None of these arguments swayed Moniz, who in a speech to the courtroom said Carter knowingly did nothing to save Roy. "She instructs Roy to get back in the truck knowing of all the feelings he has exchanged with her; his ambiguities, his fears, his concerns," the judge said. "This court finds that by instructing Mr. Roy to get back in the truck constitutes wanton and reckless conduct by Ms. Carter, creating a situation where there is a high degree of likelihood that substantial harm would result to Mr. Roy."
Carter will be sentenced on August 3; she faces up to 20 years in prison.