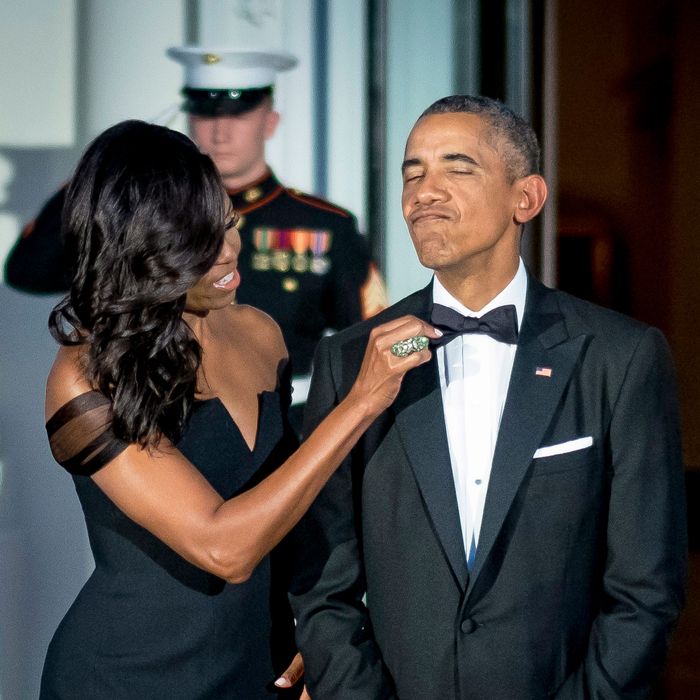 That tux.
Photo: © 2015 Bloomberg Finance LP
Michelle Obama may have rocked a lot of J. Crew during her eight years in the White House, but she was also constantly pictured at formal events in enviable high-end gowns from notable designers including Gucci, Ralph Lauren, and Versace. But speaking at an event on Tuesday, the former First Lady pointed out how "unfair" it was that she always had to come up with new looks, while her husband — former president Barack Obama — got away with basically wearing the same thing to different events.
At Apple's developer conference in San Jose, California, Michelle was asked about a viral picture of herself in an exquisite black gown at a state dinner, standing alongside her husband in his go-to black tux (as she adjusted his bow tie). "This is the unfair thing, you talk about Fred Astaire and Ginger Rogers, no matter what we do, he puts on that same tux," she said. "People take pictures of the shoes I wear, the bracelets, the necklace. They didn't comment that for eight years, he wore that same tux, same shoes."
The former First Lady noted that President Obama was "proud" of his repeat outfits, and would tease her about how easy it was for him to get ready for formal events. "He was like, 'Hm I'm ready. I'm ready in ten minutes. How long did it take you?'" she told the crowd. "And I'm like, 'Get out of here.'"
Wonder how long it takes the former president to get ready now that he mostly just wears dad jeans and Eric Holder–esque leather jackets.