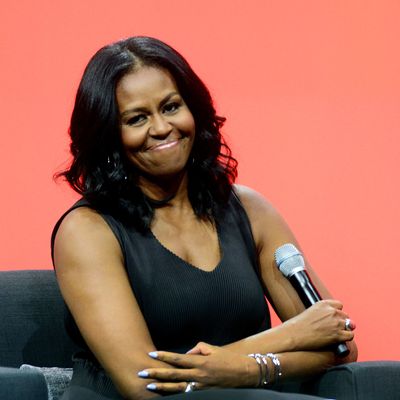 Michelle Obama.
Photo: Gerardo Mora/Getty Images
When it comes to working out, many of us prefer to do it with friends (to motivate us and hold ourselves accountable on the days we just want to skip the gym, watch Netflix, and binge on delicious pineapple pizza). And it turns out, Michelle Obama is just like us — the former first lady revealed on Monday that she used to host boot-camp weekends for her girlfriends at the White House, and that she's carried on the tradition since leaving office.
Obama posted several pictures of herself and her friends doing planks, lunges, and crunches outdoors during one of their workouts. "When I was at the White House, I often hosted bootcamp weekends for my close girlfriends," she wrote in the caption. "It didn't matter that we were all at varying fitness levels. Our bootcamp weekends were a reminder that if we want to keep taking care of others, we need to take care of ourselves first."
The former first lady added that her girlfriends have been there for her through "all kinds of life traditions over the years — including a pretty big one recently!"and that they've always made it a point to stay healthy together. Obama ended the post by encouraging others to follow suit with their own friends. "Whether it's a bootcamp or a walk around the neighborhood, I hope you and your crew can find some time this summer to be healthy together," she wrote.