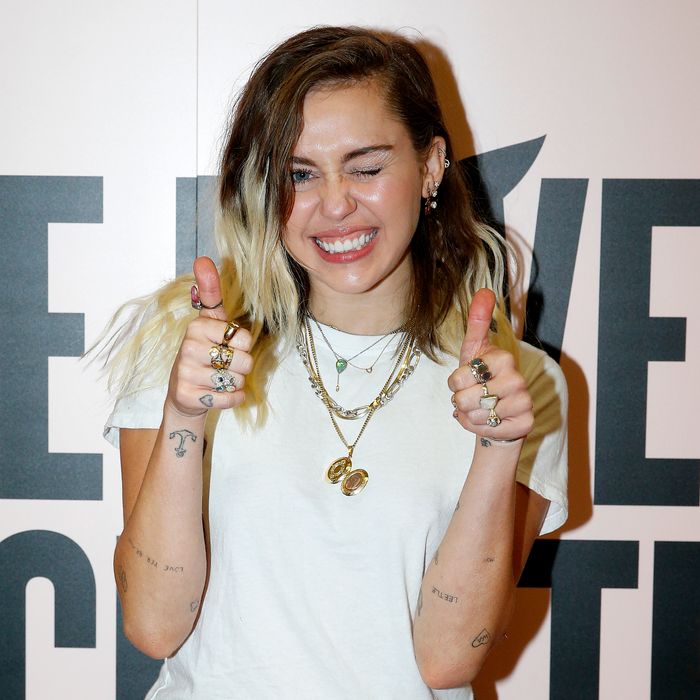 Photo: Matthew McNulty/Getty Images
Miley Cyrus's little brother, Braison Cyrus, walked this weekend in Dolce & Gabbana's Spring 2018 Milan Fashion Week show, and boy, she has some opinions. The pop star took to Instagram to congratulate her handsome sibling for his runway debut — much less in such a major show — but things went off the rails when she added a postscript about D&G's politics.
"PS D&G, I STRONGLY disagree with your politics…. but I do support your company's effort to celebrate young artists & give them the platform to shine their light for all to see!" she wrote. Whether or not she's referring to Stefano Gabbana's link to Melania Trump — she wore D&G for New Year's Eve, for example — is anyone's guess, but whatever the case, Gabbana was not having it.
In addition to commenting on Miley's Instas, including one where he promised Miley "For your stupid comment never more work with him," he also posted a separate rant on his own account. "We are Italian and we don't care about politics and mostly neither about the American one! We make dresses and if you think about doing politics with a post it's simply ignorant. We don't need your posts or comments so next time please ignore us!! #boycottdolcegabbana" Yikes.