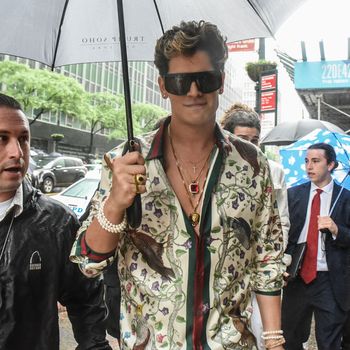 Turns out Milo's new book is pretty predictable.
Photo: Stephanie Keith/Getty Images
Remember when, in the course of about two months, alt-right troll Milo Yiannopoulos got a $250,000 book deal, engendered a backlash of outrage over said book deal, and then lost it thanks to comments he made about pedophilia? Well, BuzzFeed has obtained a draft of Yiannopoulos's book, and if their report is accurate, its contents could pretty much have been predicted by piecing together his Breitbart articles.
Called Dangerous, the 81,000-word draft contains no new information about Yiannopoulos or his origins; no behind-the-scenes look at Breitbart; and no good gossip of any kind. Instead, it appears to be essentially Milo writing a love letter to Milo, comparing himself at various points to "Nietzsche, De Tocqueville, and Azrael, the biblical angel of death." It also reportedly contains dozens of instances of self-plagiarism, at times lifting whole paragraphs from his stories published on Breitbart.
He is, of course, the central character, and where the book includes anecdotes, they're "gleeful recapitulations of online outrage cycles" he's created, and that have long since dropped out of the news cycle. And the chapter titles are just as self-centered — each one is named after a group Yiannopoulos claims "hates" him, though judging by a recent Instagram post, the "Why Ugly People Hate Me" section seems to have been edited out.
Each section reportedly includes "enough arch name-calling to astonish a sorority" and contains the same screeds Yiannopoulos has already elaborated on at length: "Women are dumber than men, black people and Muslims are more violent than whites, fat people have no willpower, Milo has a better sense of humor than the gay establishment, and so on."
Speaking to BuzzFeed, Yiannopoulos said the draft "has absolutely no relation" to the final version of Dangerous, which will be published under Yiannopoulos's own imprint on July 4. It would be a shame if the passage detailing his beauty routine — "Because soap can be drying, I apply body butter or Kiehl's moisturizing cream to my arms, chest and back. I use La Mer hand lotion …" — didn't make the cut.