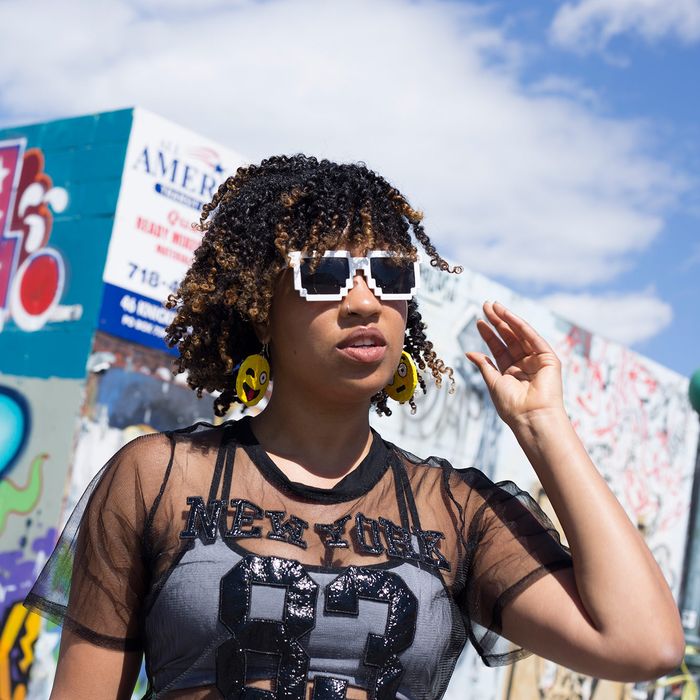 This summer, every festival lineup and radio station will inevitably feature the same predictable artists. That's a Bop is our month-long effort to introduce you to artists and songs beyond the top-ten list.
Historically, summer starts with a giant wave of anxiety about chub rub, creeping shorts, thick thighs, and fupas. But not this year. Brooklyn-based musician Miss Eaves has written an anthem that will make everyone celebrate showing off thick thighs in short shorts.
Pop music is rife with cheesy attempts at "body positive" songs that pander to you like a high-school guidance counselor. Gloriously raunchy and thoroughly bombastic, "Thunder Thighs" is not one of them. Miss Eaves assumes you already love yourself — a lot — and this song is just giving you a bass line worth jiggling to. "Thighs thick, thighs juicy, don't be jelly when my thighs shake ooooweee" is a line to sing to yourself every time you walk down the street in your shortest summer dress.
This summer '17, forget a bikini body, forget a caftan body, even — it's all about embracing dem thighs and dat ass. Put on those cutoffs, put on this song, and, to paraphrase Miss Eaves: Boom, clack — let em smack when you stride.
Miss Eaves's Feminasty is out on August 4.