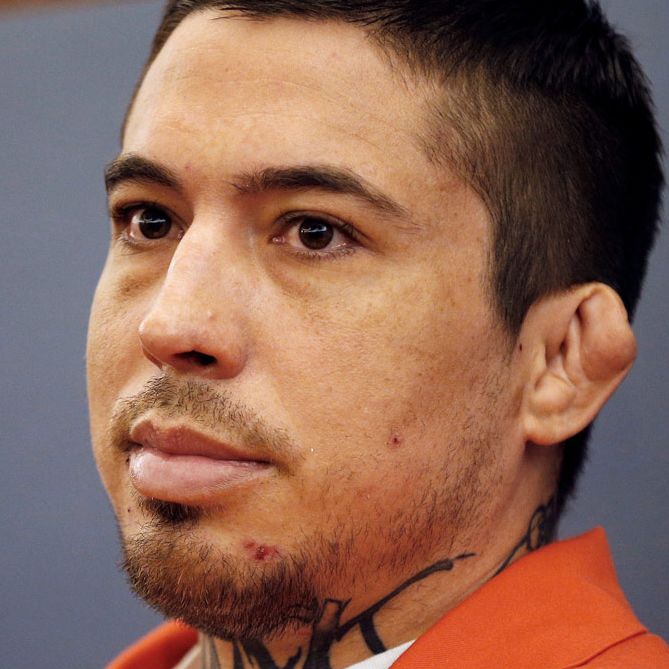 Jonathan Paul Koppenhaver and Christy Mack. 
Photo: AP
Former MMA fighter War Machine, whose birth name is Jonathan Paul Koppenhaver, was sentenced to life in prison on Monday for the brutal kidnapping, beating, and sexual assault of his ex-girlfriend Christy Mack. Koppenhaver, 35, had been found guilty in March over the 2014 attack, during which he stormed into Mack's home, beat her male companion, and then broke her nose, fractured her eye socket, ruptured her liver, and punched out her teeth.
As ESPN reports, Koppenhaver will be eligible for parole in 36 years, when he is 71 years old. A jury found Koppenhaver guilty of 29 felonies and misdemeanors back in March for attacking Christy Mack, now 24, and her male friend Corey Thomas, after entering Mack's home and finding the pair in bed together. Koppenhaver was acquitted of sexually motivated coercion, battery with intent to commit sexual assault, and burglary.
ESPN notes Mack, whose legal name is Christine Mackinday, told a Nevada federal judge during the sentencing hearing on Monday that she fears for her life if Koppenhaver ever leaves prison. "I do know when he gets out, he will kill me," Mack said.
Meanwhile, in his statement, Koppenhaver referenced the late NFL player Aaron Hernandez, who committed suicide in prison in April. "I should have killed myself by now. There's no reason right now that I shouldn't be in the dirt right now laying next to Aaron Hernandez. That's 100 percent true," Koppenhaver said. The former MMA fighter also blamed his problems on anxiety, depression, and self-pity, ESPN reports, and told the court that he has since turned to religion.
Koppenhaver's attorney Jay Leiderman, who, according to the Washington Post, had called both the victim and assailant "damaged people" during the trial and "claimed that she had rape fantasies and had asked her boyfriend to surprise her," said he plans to appeal to the Nevada Supreme Court, ESPN reports.