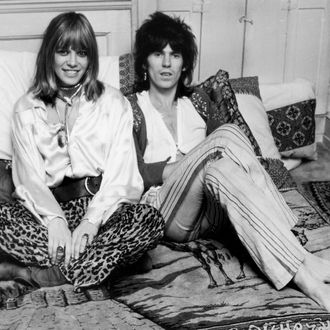 With Keith Richards in 1969.
Photo: McCarthy/Daily Express/Hulton Archive/Getty Images
The late actress and model Anita Pallenberg, who died Tuesday at the age of 73, had already covered Vogue and partied with Andy Warhol's Factory before meeting the Rolling Stones, backstage at a Munich concert in 1965. She became the band's most famous muse, singing backup vocals on "Sympathy for the Devil" while influencing both their music and look. She first dated Brian Jones; later, she and Keith Richards were partners. In his autobiography, Richards said he often got dressed by wearing Pallenberg's pants.
Born in German-occupied Rome in 1944, Pallenberg began modeling after she was expelled from a German boarding school at age 16. Her fashion career started in Italy and took her to New York, where she joined Andy Warhol's Factory. As an actress, she appeared in films like Performance, with Mick Jagger, Barbarella, and Candy, with Marlon Brando.
Known as the archetypal rocker chick, Pallenberg wore fur jackets, silk blouses, slip dresses, and sequin caps. In her late 40s, after splitting with Richards, she pursued a four-year fashion-and-textile degree at Central Saint Martins. See her best style in the slideshow ahead.