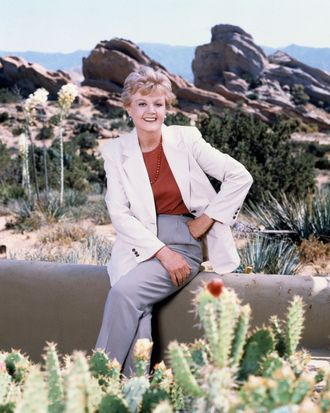 Angela Lansbury as Jessica Fletcher in Murder, She Wrote.
Photo: NBC/via Getty Images
A few months ago, I started a new job. At the end of my first week, a male colleague looked surprised to see me in the kitchen, explaining, "I wasn't sure if you worked Fridays." At first, I thought he was commenting on my travel schedule, which keeps me out of the office a lot — but then, I looked down. It turns out that between my Hebrew name and penchant for maxi skirts, he'd assumed I was an observant Jew.
This isn't the first time someone has assumed I'm religious because of the way I dress. Although I don't follow any particular code or rules for my clothes beyond "I like this and can afford it," I find that I am drawn to things that might get defined as conservative — below-the-knee dresses, cardigans buttoned all the way up, tights in nearly every color of the rainbow, and especially those tissue-thin turtlenecks from J.Crew. (In my opinion, a woman can never have too many.) And this isn't a recent development — as a little kid, my preference for frilly long-sleeved dresses and knee socks, even when my tomboyish mom begged me to try on a pair of shorts, made me look like a redheaded Darla from Little Rascals. My sister once told me that I dressed like a librarian. I think she might have meant it as an insult, but I took it as a huge compliment — after all, librarians are the coolest. If I had to choose a personal style icon, it would be either Jessica Fletcher (not a librarian, but a retired English teacher, which is close enough) or Miss Havisham.
Rather than dressing according to religious guidelines, I'm thinking about comfort and practicality — as an inveterate klutz, I need something I can fall down in without anyone knowing what color underwear I have on that day. It's also nice to know I can take my sweater off in the middle of an open newsroom and not have to worry about readjusting my boobs. Maybe opting to aggressively cover up means that I'm frumpy — but if the president of the United States "hates frumpy women," I'm more than happy to stay off of his radar. When I get dressed in the morning, I'm not usually caffeinated enough to make a political statement — I just want to wear things that will not hinder me when I have to run to catch the train before the doors close. But the male gaze is never entirely out of my mind. I have seen women get catcalled and harassed whether they wear puffer coats and rain boots or short-shorts and tank tops, because it's not about the way women dress — it's about the way men think women's bodies belong to everyone in a public space.
Once I realized that no amount of covering myself up would make me invisible or safe, I relaxed into the things I genuinely wanted to wear. And although plenty of people have told me that men don't go for the "uptight" look, someone who has issues with long-sleeved Asos blouses is someone who has a problem with me. My favorite pieces are things that make me feel confident, like the mixed-fabric Tibi blazer I got as a splurge and wear whenever I speak on a panel, and the hunter-green lace dress from an H&M sale that has become my go-to date-night look. It has a crew neck and long sleeves, and I feel sexy as hell in it, especially when I add red lipstick.
Although I've never once gone to Polyvore and typed "modest fashion" into the search bar, I have definitely benefitted from the emerging mainstream popularity of women whose modest dressing is more deliberate a social choice than mine, as these clothes become easier to find, less expensive, and more fashion-forward. Conservative dressing and amazing style are by no means mutually exclusive — on a trip to Istanbul, I loved seeing the street styles of women there, who accessorized their headscarves with bright brooches and pins or who layered and mixed patterns in ways that would make Diane von Furstenberg jealous. I've definitely gotten ideas for how to style an outfit from some of the modest-fashion blogs out there, and one of my all-time favorite dresses is from Uniqlo's collaboration with Muslim designer Hana Tajima. And in a time when it seems like every single dress on the market is a "cold shoulder" style, I try to take a full-upper-arm-covering dress whenever I have the opportunity. I may be a frump, but I'm a frump who has a whole lot of fucking fun.
And yes, I do own exactly one pair of shorts. They're Bermudas.