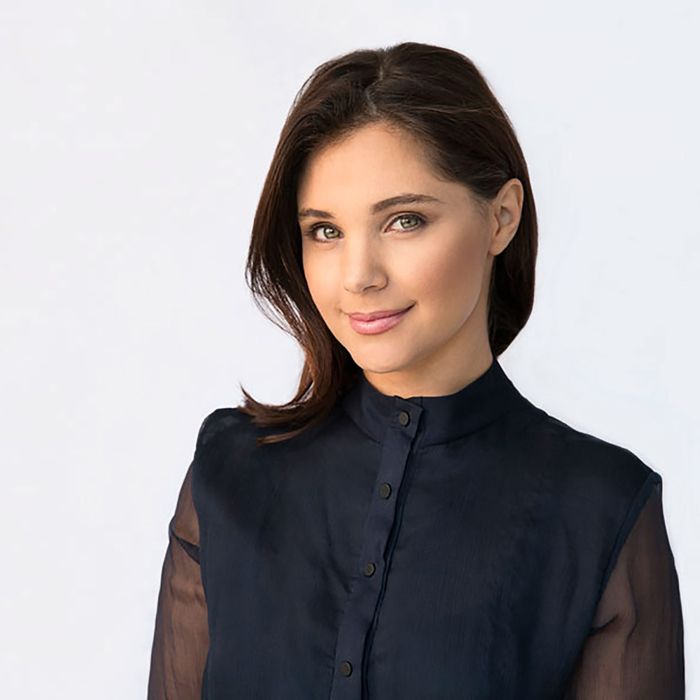 Lana Hopkins.
Photo: Courtesy of Lana Hopkins
While working in marketing and sales, Australian-based Mon Purse founder Lana Hopkins found herself on a seemingly impossible quest. "I was running around Sydney looking for the perfect handbag and I just couldn't find one," she recalls. "It was quite heartbreaking." All Hopkins wanted was a simple black bag with gold hardware — which, apparently, was too much to ask. "Every bag I saw had silver hardware," she remembers, "and I thought, if I could only change that one little tiny thing …"
A fortuitous experience at the custom teddy-bear chain Build-a-Bear for her nephew's birthday soon inspired Hopkins to launch her custom handbag business in 2014. The Build-a-Bear of luxury handbags, if you will, Mon Purse started online as a place a where women could personalize every detail of their handbags, choosing a silhouette and then customizing everything from the color down to the hardware, lining, and monogram — all at price points below $700, delivered to their doorsteps within 4 weeks.
Mon Purse now offers over 10 billion style combinations as well as (also customizable) small leather goods, phone cases, and beyond, and also has instant-gratification brick-and-mortar locations in London, Australia, and the U.S. — with more on the way. (Hopkins is set to open at least five new stores this year in the U.S. alone). Hopkins's secret formula? Quality plus a dose of originality. "It wasn't about completely redesigning the bag," she says, "I'm not Tom Ford. But, it was about customizing it to perfection."
Below, the designer discusses personal style, what's in her bag, and how teddy bears helped launch her business.
Tell us a bit about your background.
I was born in Siberia. My mom was actually economic advisor to Gorbachev. When I was about 10 we moved from freezing-cold Russia to the Southern Hemisphere, a country town with a population of 25,000 people.
How did you get into the handbag business?
The thing that I say to people quite often is, disruption tends to happen when you actually don't have a stake in the industry that you're disrupting. I had no fashion background whatsoever apart from the fact that I'm absolutely obsessed with beautiful things. As a girl, I'd always watch my mom getting ready, and really admired her sense of style. The one thing she taught me was that quality trumps quantity. [Before starting Mon Purse] I couldn't find a bag I liked, and then I happened to spend an hour and a half at the Build-a-Bear workshop for my nephew's birthday, building the most incredible teddy bear from scratch. As I walked out, I just remember saying to myself, "Wow, like if I could get this excited about building a bear, how excited would my girlfriends be about being able to get that perfect handbag they want?" When you look for a handbag in sort of that $300 to $500 range, the quality just isn't there. All of Mon Purse's product are handcrafted in Italy and Turkey by generational artisans. You don't need to pay $5,000 to $10,000 to have a high-quality handbag made in Europe.
It all started with the Build-a-Bear.
You know, it's very funny, I spoke with the founder of Build-a-Bear yesterday, actually. Somebody connected us. I said, "I'm so grateful to you." She was telling me about how Build-a-Bear came about: Her 10-year-old daughter just couldn't find the bear that she liked. It all comes down to that personal problem.
When did you launch?
I had the idea in early 2014, and launched it beta in late 2014. Look at us now! Not only are we the top-selling handbag brand in Myer, which is the Bloomingdale's of Australia, but just last year we also launched in Selfridges, in the U.K. Now, we're in New York and San Francisco. In San Francisco, where we launched early this year, Mon Purse is actually a store- within-store; we're at the front exit into the Union Square Westfield Bloomingdale's. It's an 850-square-foot location, and we're next to Ferragamo and across from Louis Vuitton. Could you imagine? Five years ago something like that would not have happened.
Tell us about how it works.
We have over 10 billion design combinations. You've got bag shapes. Then, you've got every single product — not just bags, even our wallets, phone cases, and small leather goods — can be customized from scratch. You can change the leather color, texture, lining, hardware, etc. With our top-seller products, we offer hand painting and also monogramming on the spot. You can buy, for example, a black tote with gold hardware, take it home with you that day monogrammed or painted with whatever it is that you like. But, if you want to customize it to have, for example, yellow handles … the options are endless.
What's in your bag?
I'm carrying our black mini bowler bag, with the red lips and the luggage tag painted on, and the letter "L" in gold. I never leave the house without my absolute favorite By Terry rose lip balm. I've also always got my iPhone in there, and I've got another Bobbi Brown clear lip gloss as well, my monogrammed navy wallet, my car keys, and that's it! I'm quite minimalist. When I was younger, I used to always have quite a big bag, so I used to throw everything into it. The older I get, the smaller my bags have become.
What's your fashion uniform?
I'm all about fabrics and textures. At the moment I'm loving Gucci. I've got one really good skirt that I've bought. It's winter here so it's all about staying stylishly warm. At the moment I'm wearing a lot of Australian brands. Dion Lee is one of my favorites. I've bought the most gorgeous couple of outfits from him on the weekend. It's about mixing and matching warm wools together with silk shirts, and beautiful leather boots. I love Scanlan & Theodore, which I wear all the time with my favorite pair of Levi's originals jeans. My favorite boots at the moment are a black Dior calfskin. They have a thick block heel — I'm big on comfort, but also on that touch of luxury. I think it's very important that you feel special everyday. And then of course, weekends are for athleisure. I love joggers.
Where do you live?
I'm based in Sydney but I'm traveling quite a lot, probably once, sometimes twice a month to New York, to San Francisco, to other places in the U.S. because we're about to open at least six more U.S. locations. When I come to New York, I typically stay in the West Village. I love the Village, it has such a beautiful vibe to it. They have some really great coffee in Australia, and I found a few really incredible places run by Aussies in New York. Buvette is my favorite brunch spot in New York, though you have to queue up for a really long time. I travel to London all the time, as well. So, I'm definitely earning the miles, so to speak.
What's your coffee order?
I have a soy latte, always. It gets me going.
What inspires you?
My best ideas happen in the shower. I also go walking for hours on the weekend and I don't bring my phone, because the intention is to stop working and really focus on yourself. But that's another time when I have the best ideas. I'll run into take-away shops and bakeries and say, "Can I borrow your pen?" and I end up writing ideas all over my hand. I also think that traveling to different countries — looking at how people live, exploring different cultures, eating their food, drinking their wine, trying to speak different languages — is the ultimate inspiration.
Who's your dream dinner companion?
Sheryl Sandberg. She's such an incredible role model to women. She's been able to overcome incredible adversity. From everything I've heard about her, she's incredibly compassionate and thoughtful. But, also a really methodical and level-headed businesswoman. The other person that I really love and admire is Miroslava Duma, from Buro 24/7. She's got this incredible sense of style, she's very much fashion focused, but she's also really into the tech side of things. I think Marie Curie would be very interesting as well, obviously she was such a pioneer in the world of science. I would love to have Frida Kahlo, she's one of my favorite artists. So, it would be a very interesting kind of dinner party, wouldn't it? And I'd totally invite Elon Musk for that little bit of controversy as well. I love his brain.
What's your astrological sign?
I'm a Libra, and what they say about Libras, I don't know how true it really is, but it's all that grace and charm, and the ability to see both sides of any situation. The creative side is really big in them. I hope it's true, because those things sound wonderful.
Heels or flats?
Both. During the week, I wear boots. I don't wear high, high, heels, I tend to wear block heels for a little lift as I'm not very tall. I do have some stilettos of course, but I save them for very special occasions. On the weekends I'm quite big on wearing canvas shoes. Saturday and Sunday, you will not see me wearing anything other than athleisure gear.
What's on your reading list?
I'm actually reading a book about Elon Musk by Ashlee Vance, about how he got to where he is.  There are very few people in the world who really do think outside the box like him; and who continue to make the impossible possible, and always challenge the status quo.