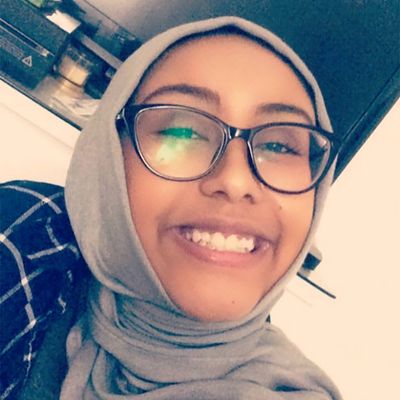 Nabra Hassanen.
Photo: Courtesy of Twitter/Beautiful_Lova1
Let us remember Nabra Hassanen's face framed with a Snapchat flower crown sitting atop her beige headscarf; a smile and trendy oversized glasses offer poignant reminders of being 16 years old, the wobbly cusp of womanhood. It is unbearable, otherwise, to imagine her last moments as she was being beaten to death by a metal baseball bat.
When police in Egypt — from which Nabra's and my family hail — beat a young man called Khaled Said to death in 2010, pictures of his shattered face circulated on social media and helped spark a revolution. Khaled's face shook the complacency out of an apolitical class who had long believed that if they kept their heads down and avoided facing the reality of the brutal regime, they could survive.
Women who like Nabra are visibly Muslim — who wear hijab — can afford no such complacency in today's world. The teenager's tragic and violent death is a reminder that in the U.S. and other countries where Muslims live as minorities, the survival of visibly Muslim women is increasingly jeopardized by the brutal trifecta of Islamophobia, racism, and misogyny.
Police say the Virginia teenager was attacked near a mosque and they have charged Darwin Martinez Torres, 22, with her murder. Authorities said Nabra's death was not being investigated as a hate crime. Tell that to every Muslim who saw in Nabra's pictures their sisters, daughters, or mothers and in between crying for the teenager, wrote to their loved ones asking them to be extra careful. My loved ones replied as they were taking our dad out to a combination Father's Day dinner/Iftar (the meal that breaks the daily Ramadan fast) in the midwest.
"We were just discussing that. It's horrible," my sister texted back. During the presidential campaign last year — during the talk of Muslim bans and Muslim registries — her husband bought her a can of mace to carry in her bag. My sister, mother, and sister-in-law all wear hijab. I am sick with worry for them every day.
Nabra's murder has hit us Muslims especially hard because it was the third violent incident near a mosque in 24 hours. In London, a man drove a van into a crowd outside a mosque in Finsbury Park, killing one and injuring several worshippers streaming out of prayers for the holy month of Ramadan, and Muslims reported an acid attack outside a mosque in Clapham Junction.
Obviously, I was not there when Torres smashed his bat into Nabra's head, but for every "police are not investigating it as a hate crime" I'll match you a horrifying incident of violence against visibly Muslim women.
Nabra was abducted and murdered as she and a group of friends were walking back to their mosque after a Ramadan meal at an IHOP. Just two weeks before the teen was killed in Virginia, a white man verbally assaulted a group of five teenage Muslim girls — most of whom wore hijab — out for a Ramadan meal in Hickory Hills, Illinois.
The girls, fearing for their safety, left the restaurant after they filmed the man's invective, which ended thus: "Fucking goddamn, camel-jacking, motherfucking cunts!"
That was June 5. On June 3, in Columbus, Ohio, Rahma Warsame, a Somali-American woman in hijab, was hospitalized after she said a white neighbor beat her, knocking out two teeth. Again, police said they "were not investigating the incident as a hate crime."
Rahma Warsame is 45. The man who beat her was a 28-year-old who said he was defending his girlfriend during a fight between neighbors. A man who punches a woman in the face knocking out two teeth sounds pretty hateful to me.
Eight days before that, a white man killed two other white men who defended two Muslim women — one in a hijab — from his racist tirade on a Portland, Oregon, train.
That's four acts of verbal or physical violence against visibly Muslim women in as many weeks in the U.S.
In the U.K., on June 14, two Muslim women in hijab had a bag of vomit thrown at their car in Blackburn. Muslim and anti-racist groups in the U.K. said violent incidents against Muslims rose significantly after ISIS-claimed attacks in Manchester in May and on London Bridge in June.
I could go on and continue further back — a Muslim woman in hijab verbally assaulted at a doctor's clinic in Milwaukee in March , a Muslim woman wearing hijab assaulted at JFK airport in January.
It might not be clear for now what motivated Darwin Martinez Torres to beat Nabra Hassanen to death but one thing is glaringly obvious: Racists in the United States will try to use the tragedy to turn people of color against each other. Already, my Twitter mentions are claiming that if Donald J. Trump had built a wall to keep Mexicans out as he promised during the campaign to become president, Nabra would be alive. That is as ludicrous as claiming that if Trump banned all Muslims from the U.S., it would save us from being murdered, as Nabra was.
Whether police are investigating Nabra's death as a hate crime or not, it is painfully clear that visibly Muslim women are bearing the brunt of violence against Muslims in the U.S. According to the most recent figures from the Council on American-Islamic Relations (CAIR), anti-Muslim bias incidents (hate crimes, harassment, denial of religious accommodation and employment discrimination) rose by 57 percent in 2016 over the previous year.
Tellingly, among the "top five triggers of anti-Muslim bias incidents," wearing a headscarf/hijab comes in as the second most prevalent "trigger," with 16 percent of incidents. That translates into 346 incidents in 2016, which means that there was an incident of anti-Muslim bias against a Muslim woman in hijab almost every day in 2016. Incidents targeting visibly Muslim women have more than doubled over those those in 2014, according to CAIR.
Half of American Muslim women do not wear hijab. But for those who do, their voluntary expression of faith is being increasingly used by racists and Islamophobes to target them in ways that another symbol in another era was used to single out another faith group. "Hate crime" or not, Nabra's death reminds us that there's never been a more dangerous time to be a visibly Muslim woman in America.