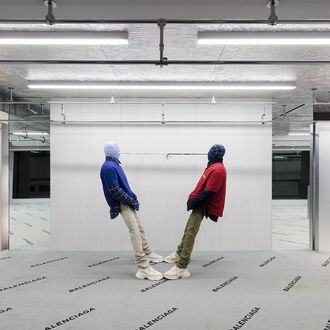 A statue by artist Mark Jenkins at Balenciaga's new store at 840 Madison Ave.
Opening today, Balenciaga's new Upper East Side store looks like a stylish industrial warehouse, featuring statues wearing the label's designs in a collaboration with the artist Mark Jenkins. Designed by artistic director Demna Gvasalia, the store at 840 Madison Avenue features concrete walls, glass mirrors, and an aluminum ceiling — pristine accents inspired by the industrial look of Balenciaga's production headquarters in Italy.
Men's and women's collections are displayed on metal bars hanging from a silver ceiling, or laid out on aluminum tables alongside accessories. Throughout the store, the floors are covered with the logo-printed carpet from last season's runway. Fitting rooms are hidden behind silicone curtains.
Three statues by Jenkins depict the playful human figures seeking interaction that the artist is known for. They're dressed in Balenciaga's streetwear — two of them tug on each other's hoodie strings. Another looks into a corner of the store, wearing a black hooded coat over a bright-green dress.
The store is Balenciaga's third Manhattan outpost, and the first to be located outside of Soho. Check out more photos below.