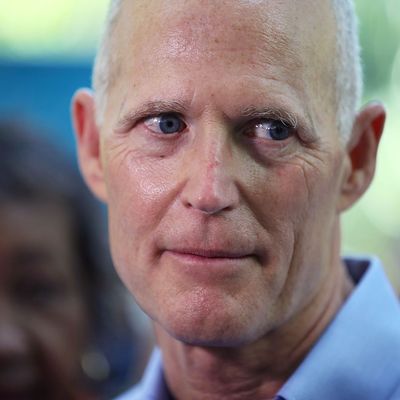 Florida Governor Rick Scott signed a bill giving families the option to request birth certificates for miscarriages.
Photo: 2017 Getty Images
Beginning July 1, Florida will become the first state to offer birth certificates for miscarried fetuses. On Tuesday, Governor Rick Scott signed the Grieving Families Act into law; the bill gives women whose pregnancies end after 9 weeks and before 20 weeks the option to request a "certificate of nonviable birth" from any nurse or midwife in attendance. The nurse or midwife would have to file the request within 30 days, and the Florida Department of Health would be required to issue the certificate within 60 days.
Families would be able to name the dead fetus on the certificate, as well as specify its sex, which usually (but not always) becomes evident between 16 and 20 weeks. According to Politico, Florida law already requires a death certificate to be issued for any fetuses that have reached 20 weeks; in those cases, families could file for both a death certificate and a nonviable-birth certificate.
CBS affiliate WTSP-TV noted that conservative lawmakers insist the bill isn't political — that it's "strictly about giving parents the ability to acknowledge their unborn baby's life." But liberals have suggested that the bill is an attempt to define when life begins, and humanizing a fetus is a common tactic of the pro-life movement.
Following the Supreme Court's decision in Whole Woman's Health v. Hellerstedt, Florida isn't the only state to turn to creative tactics to promote an anti-abortion agenda — Texas is considering a slew of laws that would regulate everything from burial of fetal remains to a woman's rationale for getting an abortion in the first place.