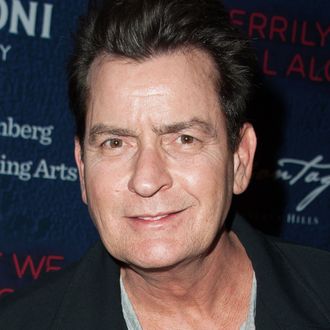 Charlie Sheen.
Photo: Jennifer Lourie/Getty Images
A Jane Doe in California has filed suit against a "confidential male defendant" that he exposed her to HIV during unprotected sex. Based on the details of the case, the defendant seems to be Charlie Sheen.
People reports:
Sheen is not officially named as the defendant in the lawsuit, but the plaintiff alleges the defendant gave a nationally-televised interview on November 17, 2015 to announce he was HIV-positive — which is the exact day Sheen made his announcement in an interview on the Today show.

 

The lawsuit also claims the defendant gave a second interview on June 21, 2016 — which is the date Sheen sat down with Matt Lauer for a second interview.
Doe alleges that before they slept together, she asked Sheen about his STD status. "Sheen said he was 'fine,' Doe claims, and that she 'needed to trust him,'" according to People. After having unprotected sex, he "threw a bag of pills on the bed" before revealing he was HIV positive.
When Doe confronted Sheen about his status days later, he described himself as "noble" for disclosing his status at all, then "berated her" for not asking about his own health. Additionally, Sheen allegedly claimed "he was facing lawsuits from other women with whom he had engaged in unprotected sex. She says that Sheen began making several bizarre statements, including that he could 'see the future' and that she was fine."
This isn't the first time that Sheen has been accused of not disclosing or otherwise hiding his HIV status prior to engaging in unprotected sex.
Sheen's ex-fiancée Scottine Ross filed suit in 2015 against Sheen for not disclosing his HIV status to her, along with "assault, battery, [and] false imprisonment." A similar lawsuit filed by ex-fiancée Brett Rossi also mentions he failed to disclose his status before having unprotected sex, although Rossi's suit focused on alleged physical and emotional abuse.