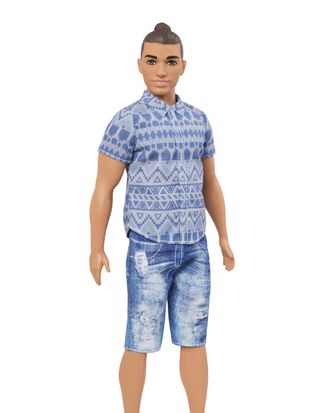 Last year, Mattel introduced a variety of new Barbie dolls meant to reflect greater diversity. Since then, her famously crotchless companion Ken has also received a makeover, and is now available to purchase in a variety of body types, racial backgrounds, fashion senses, and hairstyles, including — yes — a man bun.
By far the most discussed aspect of the Barbie rebranding was the "curvy" Barbie, and, likewise, Ken dolls now come in "Original," "Slim," and "Broad" sizes. But, according to a GQ piece, in which writer Caity Weaver visits the Mattel design center, landing on the term "broad" took some work. For instance, the company initially test-drove the term "husky":
"'Husky' just turned off every guy we talked to," says Chidoni, shaking her head. "A lot were really traumatized by that — as a child, shopping in a husky section." "Athletic" was rejected on the notion that athletes can have vastly different body types. "Brawny" didn't fare much better. And so: "broad."
Weaver also calls broad Ken "a little disappointing" — with "pecs, and abs with light definition." We could've had Dadbod Ken, after all — though, according to the Kevin James Rule of Law, he'd still probably be dating the original Barbie.