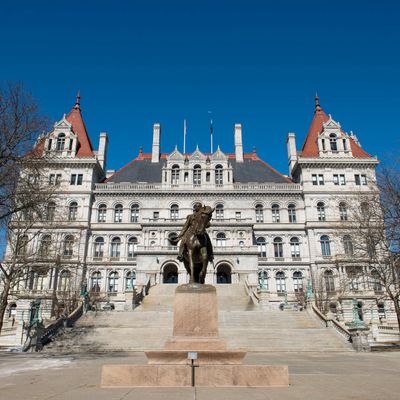 The New York state capitol in Albany.
Photo: Bloomberg Finance/Getty Images
On Thursday, the New York State Assembly voted to amend a law that allowed 14- and 15-year-olds to marry with parental and judicial consent, and 16- and 17-year-olds to get married with their parents' permission. Under the changed law, children ages 14 to 16 can't get married at all, and 17-year-olds can only do so with approval from their parents and a judge, according to the New York Times.
The Democratic-controlled assembly voted unanimously to pass the changes, and Governor Andrew Cuomo is expected to sign the bill when it reaches his desk. Assemblywoman Amy Paulin, who sponsored the bill, had introduced a similar one last year, but it wasn't until Cuomo made the issue a priority that lawmakers pushed it through.
In an interview before the vote, Paulin called the current law "antiquated." "It reflects a time when everyone married younger," she said. "Times have changed. Child marriage is coerced marriage. It condemns young women to a life they did not choose."
According to the Times, nearly 4,000 minors were married in New York between 2000 and 2010, but it's still pretty rare for children as young as 14 to get married — in 2010 just two 14-year-old boys and one 15-year-old girl were married in the state. But among older teenagers, the numbers are higher: That same year, 50 16-year-old girls and six boys wed in New York.
The new law also does things like ensure 17-year-olds are eligible for divorce (before, the legal age to file for divorce was 18) and gives judges guidelines to help them decide whether a prospective minor is getting married of their own free will.
Sonia Ossorio, president of the National Organization for Women of New York, called the legislation the "strongest protections against child marriage in the country," adding that "New York is poised to lead the nation in recognizing child marriage as a human rights violation."