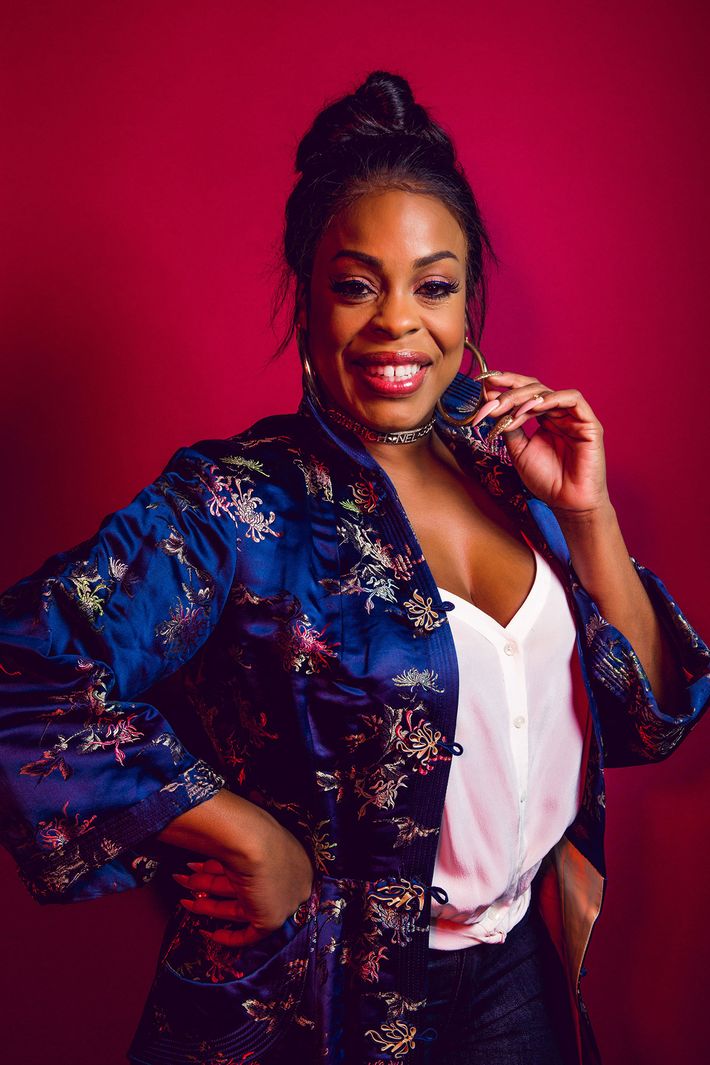 Actress Niecy Nash is best known for her larger-than-life personas on shows like Reno 911!, Clean House, The Soul Man, and Scream Queens — as well as in real life. But the Emmy nominee has also gained attention for her always-interesting style over her 20-year career. Now, with a starring role on TNT's Claws, a new hourlong executive produced by Rashida Jones, Nash is more embedded in the world of beauty than ever. The dark comedy follows Nash as nail salon owner Desna, along with her motley, treacherous team of manicurists (including Karreuche Tran) as they're entangled in money laundering, an illegal drug clinic, and murder in South Florida.
While Nash got ready for Vulture Festival recently, we asked her about the "glam" on set, as well as her personal beauty advice. Read on for the veteran comedian's no-pretense insights. Then watch the Claws trailer before the series premieres on June 11 at 9 p.m.
Nails are obviously a big part of the show. What's the nail-dressing process like on set versus your typical manicure?
In my normal life, when I get my nails done, they are a little on the long side. Not as long as Desna's, but I like a lot of glitter. Playing Desna, I have glitter, but added to that I have rhinestones, pearls, I have hearts. It's way more over-the-top than I would be in real life. We used to get acrylics, and the designs changed over in between scenes. Changing them was taking so long on the pilot, so now they create the nails and we press them on. I could go through, sometimes, three nail looks in one day, so it has to be quick.
Your red-carpet and event looks are so strong. Is that kind of full-on, glamorous prep something you replicate for everyday?

I'm easy either way. If I had my druthers in high-end products, it would probably be Guerlain. But I also buy a lot of drugstore items. I'll get an apricot scrub with tea tree oil, vitamin E oil, and Palmer's Face Serum. I usually don't get facials because I don't like people touching my face that I don't know. So I try to make sure that I can take care of myself.
Tell us about more about your overall beauty philosophy.
In terms of how do you maintain your look, I just think you look younger and fresher when you're happy. And the things that make me happy are making a lot of love and drinking expensive champagne, so that's what I do. That's part of my beauty regimen. I also wear a lot of wigs because I like to, one, change it up. And, two, I think it helps to keep my marriage spicy.
Do you have any less-glamorous beauty rituals?
Oh, I do like to do a facial mask. Those are one of the things that makes me happy. I love just walking around looking crazy with a mask on my face.
What are the best beauty perks of being in entertainment?
I'm a big lover of products, and we do get a lot of samples and things sent, but even if someone sends me something, if I love it, I will repurchase it myself. I don't ask people to continue to send things for free because I like to support women's businesses.

From what we've seen so far, Desna's look is conspicuous and unapologetic. Has that emboldened your personal image at all?
Desna wears a lot of bright-colored lips, everything from purple to orange to hot pink, even black. Me myself, I like some of that, but I'm not as outrageous. I play it a little safer. And then when your team wants to move you a little further forward in fashion, my thing is always just, don't take me too fast. I'm fine to do it, but let's go slow. Because I want to feel like myself.
You've been vocal about aiming to be honest and real in how you represent yourself publicly. Why is that a priority for you?
Hollywood is a business that will often require you to be something else. I've been asked to lose weight, to close the gap in my teeth, all sorts of things. But at some point you have to say, I'm going to be 100 percent who I am and be okay with that. Otherwise you're going to get yourself into a world of trouble trying to do things to please an industry that's so fleeting. So I'm happy to say, hey, this is what it is, and I like to represent for the curvier girls and be able to say, yes, you can still get on the carpet and feel fabulous and look cute and be on trend with your thickness. It's all good.
If you're in New York and your nails need a refresh before the weekend, head over to the Cut's Claws mini-manicure truck on Friday, June 9. Find it at Union Square Plaza, on Broadway between 17th and 18th Streets from 11 a.m. to 5 p.m. While you're there, get a sneak peek of the new series and tag #ClawsTNT on social.
This is paid content produced for an advertiser by New York Brand Studio. The editorial staff of The Cut did not play a role in its creation.