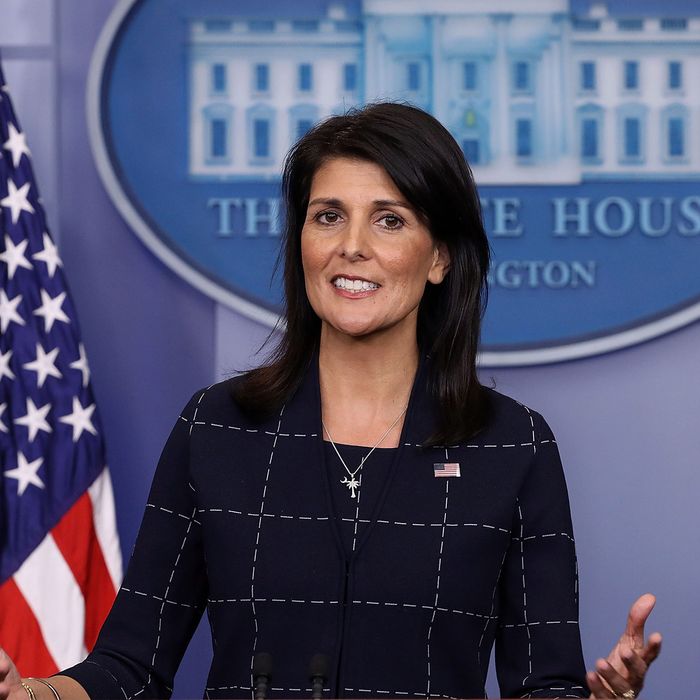 United Nations ambassador Nikki Haley said she was booed at New York's Pride parade.
Photo: 2017 Getty Images
United Nations ambassador Nikki Haley was apparently in New York City this weekend, and according to her Twitter feed, marchers in the city's annual Pride parade weren't very welcoming. On Sunday evening, Haley tweeted that she and her son were "booed by patrons saying hateful things as we left lunch @ Pride Parade," although it was unclear where she was dining along the parade route.
As governor of South Carolina, Haley wasn't exactly pro-LGBTQ — in November 2013, she opposed a federal lawsuit challenging the state's same-sex marriage ban.
"The citizens of South Carolina spoke … they spoke something that I, too, believe, which is marriage should between a man and a woman," she said at the time. "I'm going to stand by the people of this state, stand by the Constitution, I'm going to support it and fight for it every step of the way."
Her rebuttal to President Obama's State of the Union address was a little more measured, but it stopped well short of endorsing LGBTQ rights; in it, Haley said a Republican president would "respect differences in modern families, but … would also insist on respect for religious liberty as a cornerstone of our democracy."
Maybe the marchers had kept up with Haley's personal views, or maybe they just didn't like the guy she works for.