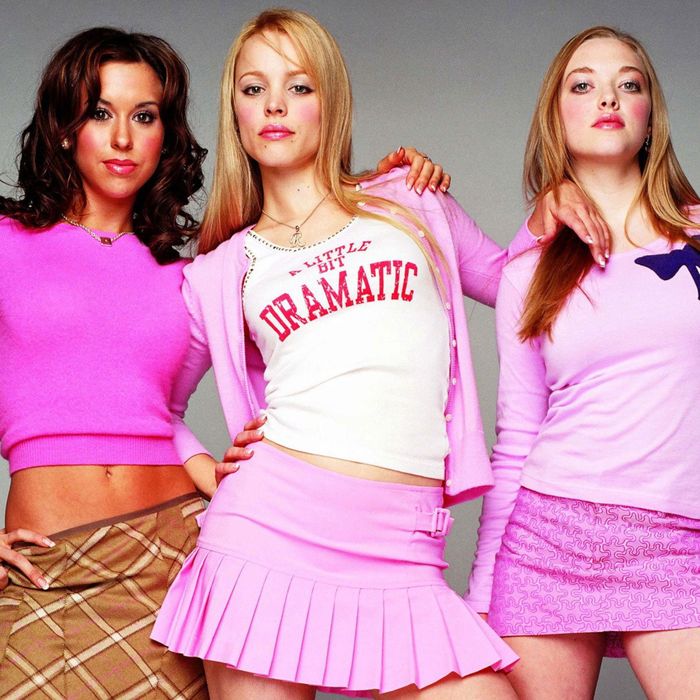 I was scrolling the internet a few weeks ago when I learned, through a myriad of exuberant articles, that Juicy Couture rolled out another round of apparel for Urban Outfitters, months after announcing the collaboration and roughly a year after its "track is back" campaign. This new line is supposedly a "nostalgia dream," but upon seeing the slightly revamped version of those iconic (infamous?) velour track pants with "Juicy" imprinted across the ass, I experienced something quite the opposite. I was catapulted back to a time when I had a gap between my teeth, wore my hair "crunchy," and was lost on using a tampon. I was woefully unconfident. In order to try to assimilate into the Cult of Cool Girls, I wore Juicy Couture — specifically with the brand name emblazoned on my chest. My friends and I followed the AOL homepage and profile of a girl called the Juicy Jap (as in, Jewish American Princess) who kept a tally of every item, by brand, of apparel that she owned. Now, I can only hope it was satire, but as 12 and 13-year-olds, we took this as the word of the Mall Gods.
I knew people who also counted the number of Juicy Couture items they possessed, using the number as a means of social currency, except it was literal currency, because these clothes were not cheap and spoke volumes about the way shallowness and competition pervade suburbia. Ironically, this was the opposite of fashion; we wore brands because somebody in suburbia said to, the opposite of self-expression, an operation of fear. I begged my mother for these physical manifestations of suburban tween ennui — Juicy Couture. Steve Madden platform sandals. That Tiffany & Co. bracelet.
Now, I'm not being asked — but told — by the mercilessly positive internet — to celebrate all this. The Steve Madden Slinky sandal will be returning! Chokers! Platforms! But just because something's "back!!" doesn't mean my middle-school dreams have come true. (My middle-school dream was to be swept out of band class to be cast in Rent. You know me not, internet.) Peel back the knee-jerk squeal and Paris Hilton references, and there's a sad time marked by inappropriately spending parents' money on luxury goods to fit in with people who would turn on me on a Tiffany's charm. Why do I want to relive that?
Apparel has the power to evoke feelings and memories; that's good branding at its core, which is why a renaissance of a brand, retro styles — a hallmark of fashion, period — and nostalgia can be so powerful. It also makes for great PR. When the Juicy Couture-Urban Outfitters collaboration was first announced in February, Urban Outfitters specifically touted the "nostalgia factor" in its release. (Juicy Couture's various collaborations appear to have even higher stakes, since the brand shuttered all its stores in 2014 and its apparel was relegated to Kohl's.)
But the nostalgia itself isn't always so rosy. Andrea, who grew up in Long Island, said she walked the other way upon seeing Juicy Couture at Kohl's, reminded of how she was called "immy immy imitation" and generally made fun of for owning off-brand merchandise. She once brought a nylon Kate Spade bag to school, only to learn from her peers it was fake.
Danielle, who also grew up in Long Island at a high school where the velour Juicy tracksuit was a social status symbol, told me, "The thought of wearing [Steve Madden Slinky sandals] makes me cringe a little."
"Now looking back on high school, I think it's funny how desperate I was to look like everyone else, as if that would solve any of my problems," she said. "I still remember what it felt like to slip them on: the soles were soft and the straps were stretchy and snug. In the summer, they got a little sweaty. They were kind of like clunky leather slippers."
There's no shame in loving an item for its appearance, regardless of its brand name (or functionality) — perhaps the Urban Outfitters collaboration could become a form of expression, unlike how the brand once symbolized cowering to conformity. Maybe that means the brand has … grown up.
Strangely enough, when Juicy Couture co-founders Gela Nash-Taylor and Pamela Skaist-Levy (who left the brand in 2010) spoke to Vogue UK in 2015 about their follow-up brand Pam & Gela, Nash-Taylor conceded she still loved terry and velour, but also: "Nothing stands still, you can't just put it in a time warp."
She was talking about aesthetics and not emotional maturity, but I, thankfully, am also not in a time warp. I can laugh at the shallowness of my youth and the ghosts of wardrobes past. But that doesn't mean I need to celebrate the return of velour pants.