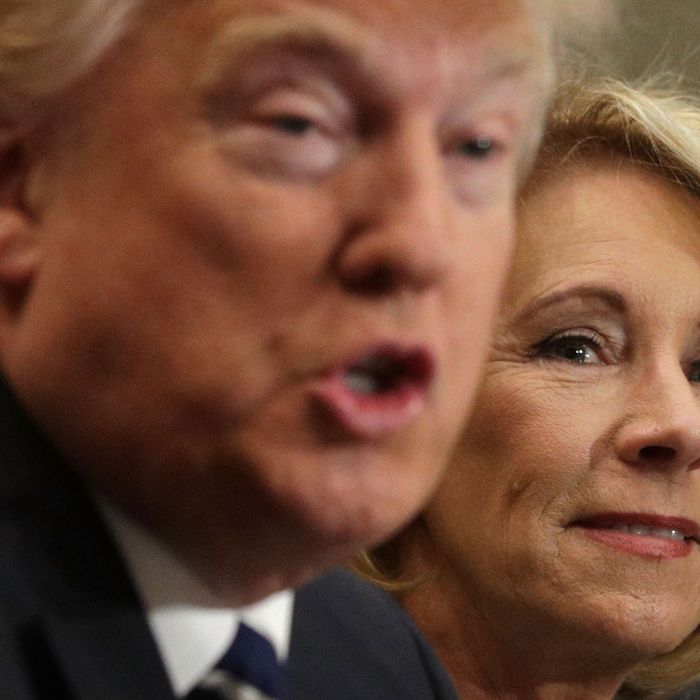 Betsy DeVos.
Photo: Alex Wong/Getty Images
One of the lasting legacies of President Obama's eight years in office was the strengthening of Title IX, the law that mandates protections for students from sex discrimination in schools and on college campuses that receive federal funding. Obama made clear his administration would be enforcing the protections put into place in 1972 by reminding institutions of the government's right to withdraw federal funding if they did not comply with investigations undertaken by the Office of Civil Rights.
With a far different administration now in office, the question of whether these protections will continue to be enforced has become a major concern in discussions surrounding higher education. On Monday, a spotlight was placed on these Title IX fears when the National Women's Law Center announced they had filed suit against the Department of Education, suggesting that there has been an alarming lack of transparency from the Trump administration on how they have been handling Title IX sexual-assault cases. The NWLC is suing the Department to obtain records that the advocacy organization says it should have received long ago.
The NWLC says they requested Title IX records from the Department of Education in January. "Specifically," the NWLC explains on its website, "we asked for the list of current sexual harassment-related complaints the Department is processing and any agreements it has entered into with schools." Six months later, the department still hasn't made a peep.
What does the NWLC fear is happening at the Department of Education? Alexandra Brodsky, a NWLC fellow and co-founder of Know Your IX, an organization aimed at keeping students informed about their rights under Title IX, told The Cut that it's possible that the Department is doing nothing about Title IX investigations, but an even more sinister option is that "they're dismissing complaints that shouldn't be dismissed or when they are finishing investigations, the conclusions are weak and aren't holding schools accountable." With this lawsuit, Brodsky and the NWLC hope to find out what's going on sooner rather than later because "everyone deserves to know what their government is doing."
At her confirmation hearing in January, Education Secretary Betsy DeVos said it would be "premature" to commit to upholding Obama's updates on Title IX that were implemented in 2011, and she waffled on whether she would uphold the "preponderance of evidence" standard. "DeVos has repeatedly dodged questions about her approach to civil rights," Brodksy said. "She has refused to commit to enforcing Title IX in the spirit of the law. We know that our president bragged on tape about sexual assault. We have reason to think that a student survivor's rights may not be protected by this administration."
Brodsky says she's been surprised by the Department's lack of response. "Under the Freedom of Information Act, the agency has a month to respond. I've been involved in FOIA litigation before. The agency usually says they'll try to work out the schedule for getting certain documents to you earlier, if needed … With this administration, it is very hard to know what is malice and what is incompetence or what is a mix of the two." When reached for comment, a representative for the Department said they cannot comment on pending litigation.