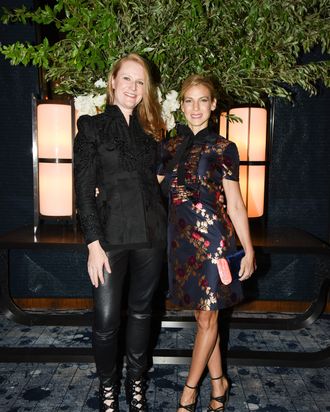 Stacey Boyd and Jessica Seinfeld at last night's Olivela dinner.
Photo: BFA.com for Olivela
What exactly is "philanthropic retail," according to the people behind Olivela, a new site that launched with an event at the Pool last night? Founder Stacey Boyd explains the concept succinctly: "To allow people to buy what they love, and to do a little bit of good in the world while they're at it. You could buy a beautiful Valentino bag, for example, and send a girl to school for a year."
Boyd — who also started Schoola, a site that sells gently used clothing and donates 40 percent of the proceeds to education — got the idea for Olivela after taking a trip with Malala Yousafzai to refugee camps in Kenya and Rwanda: "You cannot spend time with that extraordinary young woman without coming out the other side and saying, 'I'm going to do everything in my power in order to help her.'" She called on people to send in clothing for Yousafzai's cause, and they responded with bags upon bags of it — in fact, they sent three times the amount of bags it would take to scale Mount Everest.

That gave Boyd an idea: For her next project, she would tap into the luxury space. She approached brands like Marc Jacobs, Valentino, and Tod's, who were eager to get involved. Some of what's on the site are new-season items, while other pieces are past-season inventory, with discounts up to 40 percent. The proceeds from the sales will go to charities handpicked by Boyd, organizations that, she says, "help nudge the world a little": the Malala Fund, Jessica Seinfeld's GOOD+ Foundation, VH1's Save the Music Foundation, and Too Young to Wed, which works to end childhood marriage. She also tapped former InStyle editor-in-chief Ariel Foxman to help with branding and on-site content.

When Seinfeld heard about the site, her first thought was, 'This is what I've always wanted to exist. Why didn't I think of this?" She adds that since the election, her organization's phones have been ringing off the hook "with fashion companies and tech companies and banks who want to volunteer. Everyone is up for this, and everyone wants this." Seinfeld says she's already seeing the impact of public-funding cuts with the organizations she works with, and that corporations and nonprofits are stepping in. "We need new ways of funding," she says, "and this kind of revenue is really going to make a difference."

While fashion's philanthropic efforts tend to center around galas or shopping events, "I've sort of gotten to the point where I didn't want to invite people to in-store shopping events anymore, because it felt like a tired model," Seinfeld tells the Cut. "[You] invite all these people to shop, and 15 percent, or 10 percent, goes back to the charity, and in the end, maybe all of that work doesn't add up to enough money going to the organization that it makes sense to do anymore. This is year-round; you can actually have a very elegant shopping experience, and purchase something that's going to mean something in the world." Adds Boyd, "It's a sustainable, everyday, every week, every month kind of thing. Oftentimes, those smaller events, while really well-meaning, don't necessarily have the kind of scale or the kind of impact that they otherwise could have."

For now, the site carries bags, shoes and sunglasses, but will be expanding into other categories and adding new brands, according to Boyd. A dashboard on the site will help shoppers track the charitable impact of their purchases. And even those who aren't in the market for a $2,000 bag can make an impact — when you sign up for its email list, Olivela donates a day of school for a girl through the Malala Fund.