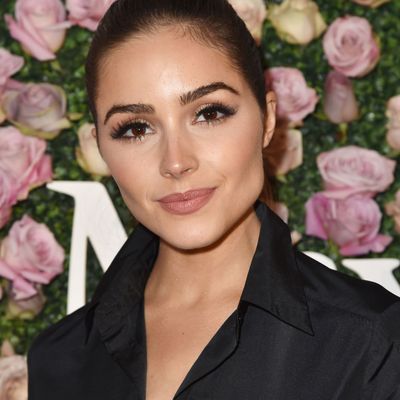 Olivia Culpo.
Photo: Frazer Harrison/Getty Images for Max Mara
Like many of us, former Miss USA Olivia Culpo is constantly on the go. The fashion influencer recently teamed up with Degree, and the Cut caught up with her to chat about her beauty routine, 15-minute meditation, her orange-juice habit, and her favorite Audrey Hepburn quote.
My morning routine: I usually wake up around 8 a.m., and I start the day by meditating. I'll just do that for 15 minutes if I hopefully have time. I usually drink orange juice in the morning — really random, but I just love orange juice in the morning. Then I'll take my vitamins. I love to use the Kate Somerville De-Puffing Eye Cream, and I'll always put on a SPF. I also put on my deodorant, which now, I'm loving the Degree Ultraclear Black + White Dry Spray, because I can get ready from the gym and even sometimes in the car without worrying about any marks on my clothes. I don't really wear too much makeup in the morning, unless I'm going somewhere, but usually I'm just going to a workout. I'll use a tinted moisturizer, but no heavy makeup in the daytime.
How I sweat: I like to switch it up, and work out with a friend. Right now I've been really loving Soul Cycle and I do pilates very often. I love to do yoga, particularly outside in California because it's so beautiful this time of year (and pretty much all year). I love to run. I also work out with a trainer sometimes, and that consists of more circuit training. I'm a big barre-class fan also. So there's a lot of different workouts that I like to do. To me, it's really important to just keep it fun, and that means adding a lot of variety and not sticking to one workout.
My best wellness advice: I'm going to tell you one of my favorite quotes by Audrey Hepburn: "The beauty of a woman must be seen from in her eyes, because that is the doorway to her heart." I love that because it just kind of encompasses the idea that everyone knows that true beauty comes from the inside and is so much more than what you see on the surface. I've always kept that in mind my whole life.
How I take care of my skin before bed: At night I have to wash my face with a Clarisonic. It's the only thing that really can get all the dirt off my face, and especially makeup, because it can be really difficult to get out of your pores when it's really heavy TV makeup. So I start with a Clarisonic and then I use Kate Somerville Gentle Daily Face Wash. I've also been using Dr. Sturm serum and Charlotte Tilbury Magic Night Cream. For under-eye, I'll either use Charlotte Tilbury or Dr. Sturm, but either one of those products for me is really good. Another thing I like to use at night for any breakouts or red spots is tea tree oil, because it helps lighten the red marks, produce new cells in the skin, and get rid of any sort of redness from any sort of breakouts I might have. And if I'm really, really dry or traveling, I'll use Aquaphor on top of my night cream. There are also a few masks I use throughout the week. For a hydrating mask, I've been using SK-II Facial Treatment Mask, and then for more of a peel, I use Dr. Dennis Gross's Alpha Beta Peel.

My wellness shortcut: Drinking a lot of water is one of my biggest beauty secrets, and then another hack that I like is coconut oil. You can use it as a face moisturizer, you can use it to whiten your teeth, because it's antibacterial and will pull all the plaque. You can also use it to avoid dry skin on your scalp or improve the ends of your hair.
How I eat when I'm alone: My go-to meal when I'm alone is usually on-the-go. Having the opportunity to sit down and enjoy a meal is usually when I'm with another person. It's typically a salad of some sort with vegetables, chicken, or salmon. It helps sustain energy and I won't feel really lethargic after having it because it's light and there are a lot of nutrients. I also love Kind bars, raw cashews, bananas, and apples.
On meditating: I started meditating when I was 18 years old. My mom actually introduced it to me, and my older sister is a yoga instructor. I'm so grateful to them for introducing me to that and getting on the meditation bandwagon because I think it's really difficult to get yourself to do it and be consistent with it. I do fall in and out of it — it's really hard to do it every single day like you're supposed to — but I find that when I do take 15 minutes in the morning and 15 minutes before bed, it makes a huge difference in my day-to-day life.
This interview has been edited and condensed.