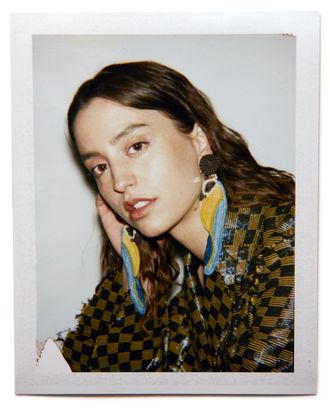 Olivia La Roche wears an Edun jacket and Mercedes Salazar earrings.
Photo: Lucas Michael
As the co-creator of online vintage shop Petra von Kant, which bills itself as "vintage for the editorially inclined," Olivia La Roche has become a pro at sourcing 1940s peignoirs and vintage pointy-toed pumps — and making them look exceptionally cool. "We look at what's going on in a contemporary sense," she explains, "and mix a hyperawareness of the current fashion climate with our extensive fashion education."
Her store's name was inspired by the Fassbinder film The Bitter Tears of Petra von Kant — one of those movies that is constantly name-checked as an inspiration by designers. "You could watch it with the sound off and it would be an editorial," she says. Read on for her lightning-round answers to our interview questions.
If you could speak to animals, which animals would you want to talk to? Men.
If you were a magazine, what magazine would you be? Psychology Today.
Sneakers or slippers? Definitely slippers, but the silk jacquard baroque style.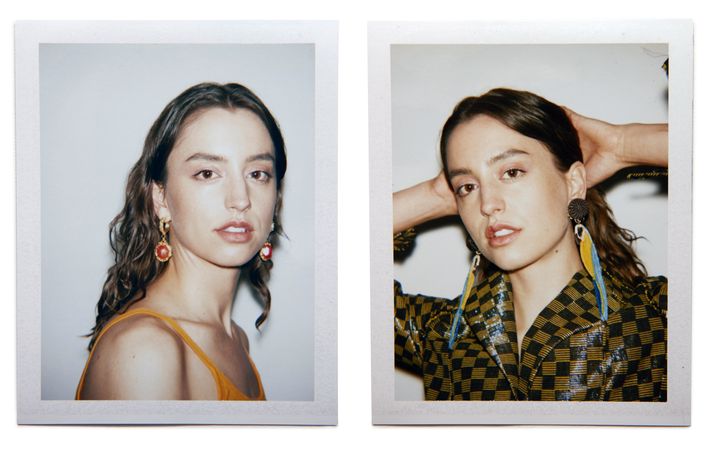 What's something your social-media followers don't know about you? I was raised on a commune in Northern California, and I went to American school in Bulgaria, after the fall of the Soviet Union.
What was the last website you looked at? Nutrition facts for eggplant.
If you could be outfitted by one designer for the rest of your life, who would it be? The Salvation Army. I could never swear an allegiance to a designer. Especially with vintage, it's about the piece, not the person.
What time is your alarm set for in the morning? 6,7, and 8 because I'm an optimistic realist.
What do you eat for breakfast? Milky tea and toast. I have to have that to wake up. It's how I bribe myself to get out of bed.
If you had only three things you could eat for the rest of your life what would they be? Survival: brown rice, black beans, kale. Dream: Calabrian chiles, hearts of palm, sourdough.
Fuck /Marry/Kill? Lady Godiva/Marie Antoinette/I would never kill anyone. I couldn't live with myself.
Person you wouldn't mind being trapped in an elevator with? My mom, because I'd be scared, and I would need her.
If you could tell Donald Trump ONE thing and make sure he would listen, what would it be? I would tell him that he's enough, and he's okay, and he doesn't have to prove anything. I think if he were well-adjusted he wouldn't be doing any of this. I would tell him his father is proud of him.
If you were a color, what color would you be? Opal.
Olivia wears Edun Lurex Check jacket, $1290, edun.com and Mercedes Salazar Guacamaya earrings, $213, mercedessalazar.com