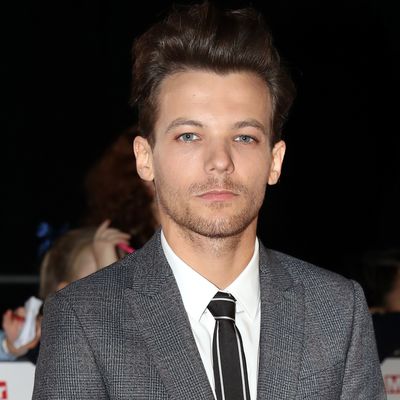 Aw.
Photo: Chris Jackson/Getty Images
With One Direction taking some time apart for an indefinite amount of time, the band's members have been pursuing their respective solo projects, with Louis Tomlinson gearing up to release an album via his own record label later this year. (He also released his first song, "Just Hold On," in late 2016 following his mother's death.) But in a totally open, raw profile that was just published in The Guardian, Tomlinson opened up about the variety of insecurities he faced throughout his tenure in the boy band, most notably that he was seen by some as "forgettable, to a certain degree," and he never quite knew where he fit in. "Like Niall, for example. He's the most lovely guy in the world," Tomlinson explained. "Happy-go-lucky Irish, no sense of arrogance. And he's fearless. There are times I've thought: 'I'd have a bit of that.' Zayn, back in the day. He could relate to me on a nerves level. In the first year we were both the least confident. But Zayn has a fantastic voice and for him it was always about owning that. Liam always had a good stage presence, same as Harry, they've both got that ownership. Harry comes across very cool. Liam's all about getting the crowd going, doing a bit of dancing … and then there's me."
When he finally found his footing and grew into what he described as "the most confident I ever was," that's when the band decided to take a hiatus, which Tomlinson didn't support. A brief directionless period ensued.
Tomlinson argued against it, he says, when the band first sat down to discuss separation. "It wasn't necessarily a nice conversation. I could see where it was going." Tomlinson remembers his instinctive assumption being simple. He would step away — try writing for other people, keep his label going, wait the "two years, five years, whatever it be" until One Direction reformed. "If you'd asked me a year or 18 months ago: 'Are you going to do anything as a solo artist?' I'd have said absolutely not."



Tomlinson is now moving forward with his solo work one day at a time — with a good head on his shoulders, may we add — although noting that getting a "superstar" writer to work with him is proving to be harder than his One Direction days. "And I understand that," he says. "Harry won't struggle with any of that." Don't worry about others, man. You do you.