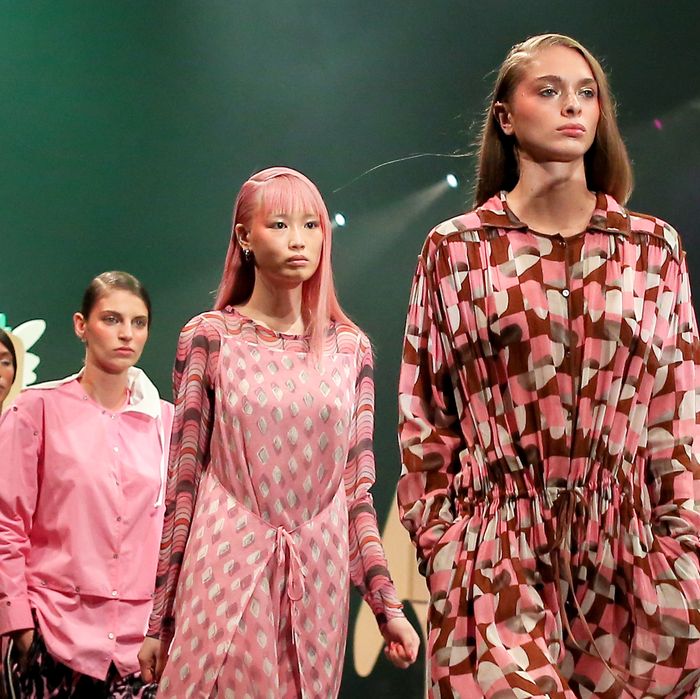 Photo: SERICHAI TRAIPOOM/© Serichai Traipoom
When Euro and New York fashion shows get imported to Los Angeles, they're often more Broadway than runway. Think Louis Vuitton in the desert backdrop of Palm Springs, Burberry with live music at the Griffith Observatory, and Saint Laurent in the palatial Palladium with Beck and Joan Jett playing post-show. These cavernous venues and theatrical settings aren't just for editors and retailers: They're the Coachella of fashion festivities, packed with locals in their best boho finery.
This year's WME-IMG's Made LA event for Opening Ceremony's Fall 2017 show was no different. For the tenth anniversary of Opening Ceremony's LA retail store, a tank-sized tent was constructed on the upper deck of the LA Live building, adjacent the Staples Center sports arena. Just outside were open-air pop-up shops, including one peddling original Opening Ceremony T-shirts, prismatic bombers, and multi-hued streetwear.
Retailers turned designers Carol Lim and Humberto Leon, who are also creative directors of Kenzo, based the 33-piece collection on what they called "a hybrid of the artist Ken Price's color palette, mixed with Georgia O'Keeffe's wardrobe." The lifelong friends and Brooklynites paid homage to the current Georgia O'Keeffe show at the Brooklyn Museum, which features not just art but also pieces from her Southwest-soaked wardrobe.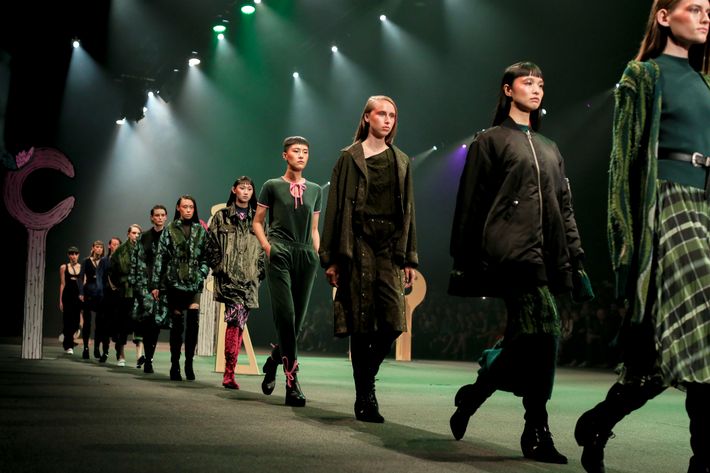 The models, half of whom were Angelinos cast via Instagram, marched down the set in soft mixed greens and sky and sand tones, as RZA from the Wu-Tang Clan freestyled. There was even a smattering of sunset and dawn colors in the glamorously grunged-up chiffon plaids, contrasting-sized striped knits with a heavy dose of ruched sleeves, and pants. O.C.'s signature satin bombers were shown in silver, blue, and even a smoked trout-toned longer number — some with ruched sleeves, some Western studded. While one pink printed silk dress with striped sleeves was softly romantic, the embossed black-leather hoodie jackets with black minis brought back the '80s again.
Seattle played a big role in the overall look, like a rust-colored corset camisole tossed over a plaid top and striped oversized sweaters paired with ruched and cropped satin pants resembling dyed parachutes. All were shown with pointy winklepicker shoes in white or black, or thigh-high black-suede buckled boots. One standout color collab was a sunset-hued, drop-waist anorak shown with claret-colored crushed velvet boots.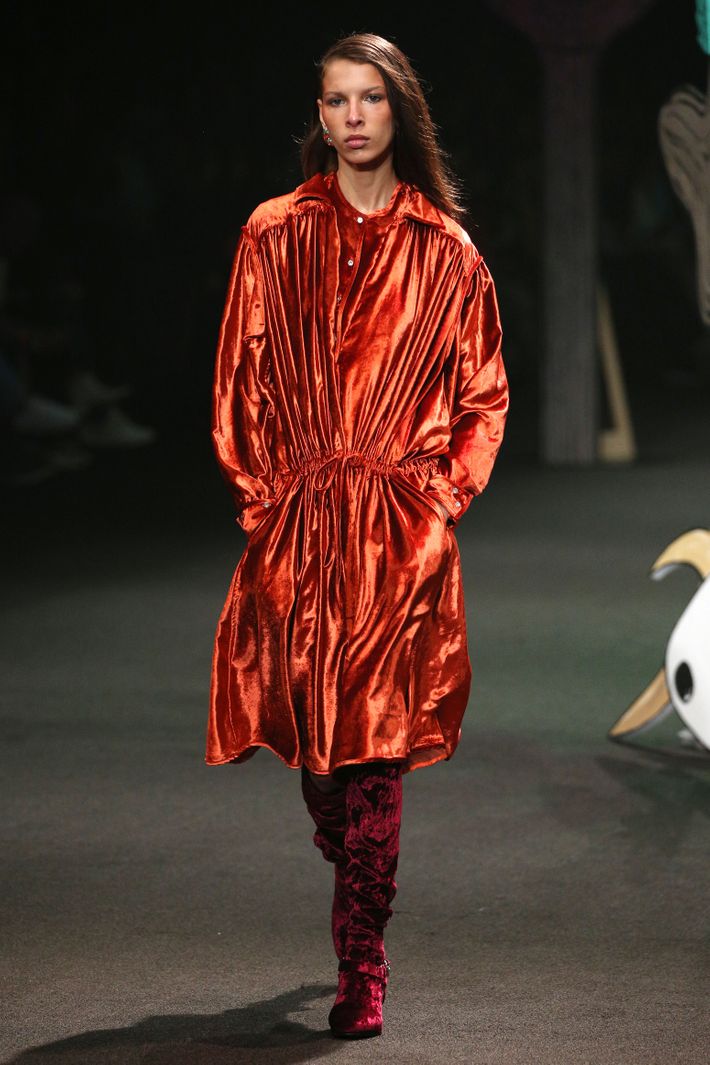 The show ended as theatrically as it was set up, with some models competing in martial arts. It demanded complex pre-production and choreography by Quentin Tarantino's go-to stuntwoman Zoe Bell.
O.C. loyalists can snap up these clothes within a few days. This show-and-buy routine really suits the only designers in the biz who are also retailers. How do they do two major collections — one Paris, one New York — stores, and big-production runway shows? "We're very organized," laughed Lim backstage.