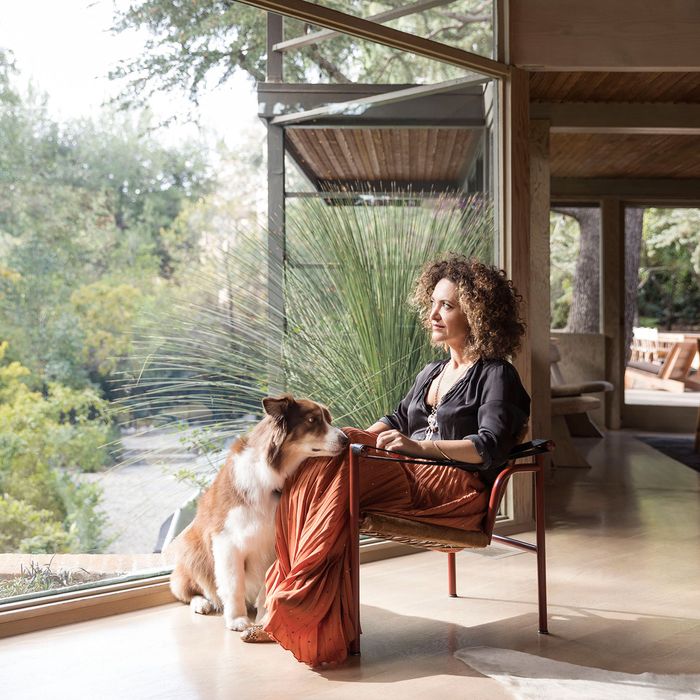 Pamela Shamshiri.
Photo: Mark Leibowitz
Pamela Shamshiri is a force of nature in a printed Marni dress. After co-founding the prestigious interdisciplinary design firm Commune (which won the Cooper Hewitt Smithsonian Design award in 2015), Shamshiri struck out on her own last year, opening boutique design firm Studio Shamshiri with her brother, Ramin. Angelenos might recognize her touch from such local gems as Irene Neuwirth's animal-topiary-flanked flagship on Melrose Place, or the bright and airy Verve Coffee shops in West Hollywood.
Shamshiri's investment in everything she touches is palpable, so perhaps it's no coincidence that she lives inside one of her most prominent architectural projects, an extensively renovated Rudolph Schindler residence in the Hollywood Hills which she shares with her two sons.
At her Hollywood studio, Shamshiri spoke to the Cut about working with family, obsessing over the '40s, and that house. Read on for more.
Tell us a little bit about your background.
I was born in Iran — my father is from Tehran and my mother is from Rome. I was in Tehran until I was 9 and then we came to the States because of the revolution. I grew up pretty much in L.A. until I went to the East Coast for college and grad school. I went to Smith College for art history and architecture. Then I got my master's in production design from NYU; you learned how to do period films basically.
How did you get your start professionally?
I was so lucky. I had friends that were directors and photographers and I just started working for them. I did sets for a long time and then one of my clients said, "Hey, can you do our offices and then my brownstone?" I started doing interiors that way. I wanted to start a family and settle down and stop traveling. It worked out all at the same time.
When did you come back to L.A.?
I came back to LA in '98. I was bicoastal for a while. Then I started Commune in 2004. I was working with my two partners already doing event design. We were like, "What if we do this permanently?" Roman Alonso, Steven Johanknecht, my brother Ramin, and I came up with Commune and started a multidisciplinary firm. We were thinking we would take a holistic approach to design, the way we do in production design, and that it would be all freelance and that we would staff up according to what the job required. We put together a community of people, and hence the name Commune.
We were going to have no employees. It was just going to be the four of us. Then quickly we figured out that when you find good designers, you have to hang on to them. That grew and grew and then we won the Smithsonian Award. That was incredible and I felt like it had its own legs, like Commune was good and set and would live on. I was ready to start the next venture, which is now Studio Shamshiri. Luckily my brother had left Commune a year earlier and now we're partners in this.
How is it working with family?
We've had our ups and downs, but I feel like it's been so long that we're finally figuring it out. I really value his input and opinion. Well, there are the classic design-versus-business battles, but I think Ramin has that kind of brain that bridges both and so it's such a rare gift. He brings something completely different to the table, as I'm very design orientated.
Tell me about some of the Studio Shamshiri projects:
We have two or three great hotels that we're working on, a ton of historic residences that we're restoring both architecturally and doing the interiors, and a bunch of new builds where we're working with great architects. We have a Four Seasons. We have the J Brand offices, which are almost completed. We have a project in New Orleans — I can't say what it is, but it's a great one. Then a Stanford White restoration and a Neutra; Quincy Jones; a Tudor; and an English country house. We have a vineyard in Napa that we do that's amazing.
How would you describe your work in a few sentences?
I feel like we make social spaces and tap into history. We really focus on what the emotion is that you get, and the experiences. It's about playing with eras, the eclecticism of that, and then human scale.
If you were to live in a different era, which would you pick?
The '40s. I look at my shopping habits and I'm like, "Oh my God, I'm really into '40s." It's the aesthetics and the care and thoughtfulness that people took both with fashion and getting ready, but also their interiors. I really, more and more lately, have been responding to that. It's about holistic design and the level of thoughtfulness and detail.
What's your studio like?
It's very family-like. Our studio email is "Designfamily" I love a very collaborative setting. I got to work closely so much with Alex Calderwood from Ace Hotel and he would always say, "You never know where a good idea comes from. You just have to be smart enough to get it from anywhere." I love to set up the architects' comments on interiors and interior designers' comment on graphics. It's very, I'd say, interdisciplinary and collaborative. We're in L.A., so it's pretty casual too in the way we interact.
What about your desk?
At home, I have drafting tables and watercolors, but here it's just a lot of reference books. I don't like people going online to find their references. We really encourage libraries and books still. It's very inefficient, but then we're not looking at the same things as everyone else is looking at.
What else is on your desk?
Always protein and vegetable snacks, to be honest. Stacks of drawings that other people do and I redline. There's red pens.
What music are you listening to on repeat?
Right now, I'm listening to Thundercat.
Who's your dream dining companion?
I would love to have dinner with Rudolph Schindler. Because I think about him all the time and I think I live with him.
You do live in one of his houses, after all. Tell us about how you found it.
We looked and looked for two and a half years. I really wanted to restore and preserve something and when we found it, I thought it was too far gone. Of course, it made no sense to do it. I wasn't looking for Schindler. I knew he was the architect's architect, but at the time didn't understand why and I'm so happy it ended up being a Schindler. I wanted it to be in the Hills and it really feels like a tree house. It was a very emotional buy and a painstaking restoration.
The restoration took six years. Two of the years we were downstairs. We couldn't even go upstairs. There were no windows for the longest time. I learned so much from it and really have a newfound appreciation for how he ties the indoors to the outdoors and geometry. The main room is like a cave for viewing nature. He had just gone to the Anasazi cave dwellings. The house was set up to view a tree-scape, and so it gives back. I love dissecting it and trying to figure out what makes it so nurturing.
What career would you have in an alternate universe?
I would say food or fashion. I think I would be a fashion designer or a chef.
What are a few things that inspire you?
Right now: Edwardian lace, the '40s, Schindler, Donald Judd.
What's on your reading list?
Right now, I'm reading a lot about permaculture. It's very dense and I can't believe I'm reading as much as I am. The Four Seasons founder wrote a book about how he created that brand and so that's what I'm reading. I don't do light reading. It's weird. I should read fiction or something.
What do you never leave home without?
Lipstick — Tom Ford. It's like a rose color called Pussycat; or Charlotte Tilbury Bond Girl. My phone is the other thing. I do leave my keys, but phone and lipstick, I don't.
What's in your bag?
I currently switched back to Il Bisonte and I have a nice little computer laptop and that's always in it. Tom Ford sunglasses — he's making his presence known — hand cream, multiple books with lists in them. Yeah, there's always a red pen, a pencil, and that's it. For hand cream I use good old Nivea.
What's next?
Creating our new office space. It's huge and makes me happy every day. We got a beautiful space in an old Spanish building in Hollywood, on a courtyard. We're in the middle of putting back all the arches and adding coves, and there's these big pointed arched windows. We want to work in our office the way we preach to our client. All the things that we try to get into houses, we're going to have in this space.
This interview has been condensed and edited.