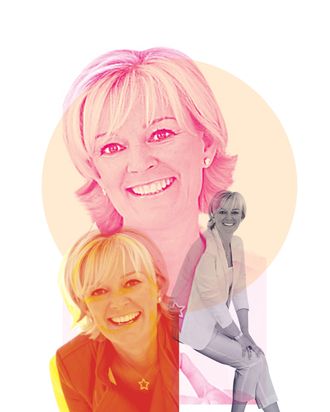 Jo Malone, founder of Jo Malone.
Photo-Illustration: Stevie Remsberg
Fragrance maven Jo Malone MBE, 53, takes up to 12 meetings and smells up to 20 scents each day. She never wears just one scent at a time, preferring to paint different parts of her body with different concoctions according to her outfit and mood.
Malone is the founder of the fragrance brand Jo Loves, as well as the eponymous fragrance company (which she sold to Estée Lauder in 1999). In 2008, she was made a Member of the Most Excellent Order of the British Empire for her services to the beauty industry. In addition to being one of the preeminent forces of the fragrance world, she's a self-proclaimed nester who scents her floors and pillows with cologne, locks her phone in a drawer after work, and cooks gourmet-quality dinners for her husband and teenage son. Here's how she gets it all done.
On her morning routine:
I get up at six and walk my dog — we have a border terrier — then come back and sit for an hour at the kitchen table and smell scents. I'm not necessarily creating product; I'm just playing with notes, like music. I will test my nose, and then I'll sit with a mug of coffee and go through my day. By the time we get to 7:30, quarter to eight I know exactly where my day is and where I can fit in that space where I can plan and think. If I don't have that I get really anxious. I hate that feeling of running behind yourself trying to catch up.
On getting ready:
I've got this brilliant hair-dryer; it's a roller brush, so you switch it on and it rolls your hair as you're drying it. Both day and night I do a deep cleanse and massage with a nice warm towel. I put my moisturizer on, leave it for about five to six minutes. For makeup, I use Laura Mercier, I've got Bobbi Brown eye pencils, Maybelline Mascara, and Chanel lip glosses. I love Chanel lip glosses. Then my fragrance. Very simple. I can be ready in 25 minutes. Made up, hair done, dressed, ready to go. My husband, on the other hand, takes hours to get ready.
On choosing her fragrance for the day:
I never wear just one fragrance. If I was only able to ever have one fragrance it would probably be Pomelo because it's clean, fresh, and it's not cluttering. I've got paintbrushes, so I paint with fragrance. It kind of depends on what I'm wearing. Like today I've got black trousers on with yellow daisies, so I've painted my legs with one scent and my arms with something else.
On focusing:
I don't function well swapping from one thing to the other. I would rather do one day on creativity, one day on strategy. I find my mind really thinks through what's happening, and sometimes if I swap from one to the other, no one gets the best of me.
On any given day, I might be down in the shop or doing a window, or re-merchandising the studio for the paintbrushes that we're about to launch, or meeting with my new-product-development team. I write a column for the Evening Standard every Monday. I also do a lot of speaking engagements, so I go 'round the world and I tell the story. I might start the day in a primary school doing an assembly for children, and I may end a day doing a talk for one of the big creative industries.
On her workspaces:
My studio is in my home. There's lots of white space, a table, and lots and lots of bottles, and lots of paintbrushes, and lots of papers. It's very ordered. Everything is in boxes and I know exactly where everything is all the time. I can't think when there's clutter around me.
At the office, I have the desk that no one else wants, facing the wall. I will sit there for an hour and a half at the most. I'll go through all my paperwork, all my emails, anything I need to reply to. Sit with PR, run through any interviews that have come in, then I leave. I'm happy in the shop, I'm happy in my creative studio, but the place I feel most uncomfortable is in the office. I've never spent a whole day in there.
On not using email:
I'm not computer literate so my emails go via my PA, which is wonderful. She might get a 100 a day, but vets them. I don't do that. I text and I call people. If I had 100 emails that I didn't answer a day, I wouldn't be able to sleep at night.
On meetings:
Some days I can have none. Every two or three weeks, I try to have a creative day which is just me with my ideas and my thoughts, and no meetings at all. The days with meetings start at 11:30 and go through to 'til seven this evening, without a break. It's an NPD that's always two hours, PR, planning meetings; there can be anything from 3 to 12 depending.
On staying organized:
I like to know what I'm doing, where I'm going — I have a big notebook and everything goes in there, from doing my nails, to doing a face mask, to doing the shopping, to doing a column for a newspaper, to new product development. If it's in a thick pen I have to complete it that day; if it has an asterisk next to it it's urgent; and if it's in thin pen it can be carried through to the following day. If I wasn't like that I wouldn't get done half of the things that I do. I like order; I hate mess; and I hate untidiness.
On taking some "white space":
I have this thing about creating a slice of white space where I think. It has to appear at least four or five times in my day. I'll think about everything: What I'm cooking for dinner, what color I want my hair that afternoon. You don't do anything brilliantly when you're just running to catch up and tick boxes. I love going for a manicure and pedicure, and sitting there and just saying nothing for an hour. I turn my phone off. I don't want anyone interrupting me. I sit with my little notebook and any thoughts or words that come into my head I'll write down.
On travel:
I'm on the road every seven days, everywhere from Europe to America. I love traveling because a plane is white space. I can't bear the fact that you can use your phone now on a plane. I want to read a book, I want to watch a movie.
I'm very organized when I travel. I'm dyslexic and my eyesight isn't great so I have to have everything on a piece of paper. Every single number, every single contact. I don't like anything left to chance. If I'm coming to the States, I have my little bag that's packed with all my things for the plane. I'm a creature of habit. I always go with my notebook, a lip gloss, fragrance. I paint with fragrance a lot, so I'll take a piece of paper and paint as I'm sitting there on the plane. I wear this beautiful red cotton caftan that I put on when I'm traveling from a company called Rae Feather, and I put my flip-flops on.
On managing stress:
I suffer from anxiety quite badly. When my mind is not occupied, that's normally when I will start to get anxious. It's also when I lose that control, which is why I like everything ordered. Often when you're stressed if you suck a mint you feel better, because it makes your brain focus on something else.
On the hardest part of the job:
Time. And I'm not a great people manager. I can inspire, but managing people's expectations and my expectations of them … I give a lot but I expect a lot in return, and I need to realize that people don't run as fast as you want them to. That's the hardest part of my job, but it's tiny compared to the good-ness of my job. I actually don't think of it as a job anyway — I think of it as a way of life, and that's probably where my expectations come from.
On what her home smells like:
I love candles, obviously. We live in a completely white house with whitewashed floorboards. It looks like a beach house. It's on three floors and it has a big terrace. Every other day the floors are washed with a very diluted solution of Pomelo cologne. The sheets are changed twice a week, and we love scenting all of the sheets and pillowcases with a very light Bitter Orange cologne. When you lie down, you smell it and it just makes you go to sleep. And if you spray paper towels with cologne and put them inside the cushions of your sofa, you'll get a really lovely scent. You want that freshness, as though something has just wafted through your home.
On going offline:
By 5 p.m. on the workday, if I don't have an event, I'm home with a nice glass of wine with ice in it. I'll light all the candles, cook dinner — I just made a wonderful fresh pomelo and ginger and garlic roast chicken. I'm pretty relaxed in the evening. I switch off. I have a drawer that I put my phone into so I can't hear it or see it. If I'm with my family, there's no reason for my phone to be on, and whatever happens you can deal with in the morning.
I would say that's my slice of white thinking space as well, just listening to everyone's day. We were sitting on the terrace the other evening, and the dog was out and my husband was playing his guitar. Sometimes we work so hard we forget why we're working; we work to enjoy those moments.