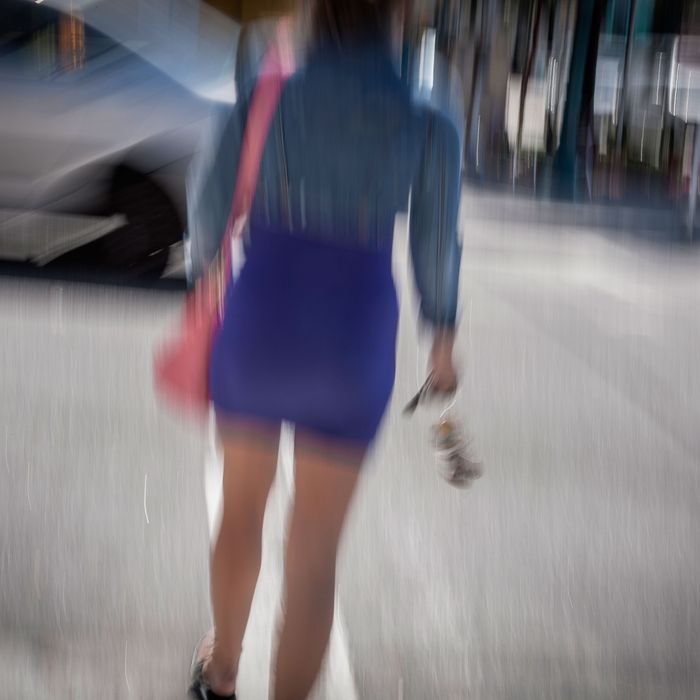 Pickup artists in Canada keep secretly filming women.
Photo: Peter Glass/Getty Images
Pickup artists in Canada keep secretly filming women in public without their consent, but there's very little legal action women can take to stop men from recording them or posting the videos and images online, according to a new report from the Toronto Star.
Earlier this month, a man known as CanadaCreep on Twitter was arrested in Calgary, the Star reports. Jeffrey Robert Williamson, 42, was known for posting voyeuristic videos and photographs of women on Twitter, and he had about 17,000 followers before his account was suspended. But his account was only suspended when he started shooting video up women's skirts, which is technically illegal in Canada; the rest of his content was apparently perfectly legal. Williamson was arrested and freed on bail, and then rearrested on Friday on child-pornography charges, the Star notes.
Likewise, Toronto-based YouTube pickup artists Vadim Dorfman and Austen Sangfroid often use a hidden cameraman or a GoPro in their apartment to film women for their seduction how-to videos, without the women's knowledge or consent. In one such video, called "How to Prepare Your Place for Sex (with real examples)," women are shown in "various stages of undress," according to the Star, yet their faces and breasts are strategically blurred. (The men defended their videos to the Star, saying they adhere to YouTube guidelines.)
Despite the despicable behavior of these pickup artists, legal experts told the Star that because the videos obscure the women's identities, they're not actually illegal. Additionally, filming people in public is technically legal in Canada, so a person has to partake in truly outrageous behavior (such as up-skirt shots) before their photos or videos can be considered illegal like Williamson's eventually were.
Kavita Dogra, the founder of Canadian women's rights group We Talk Women, told the Star that she'd like to see the law changed to protect women in these scenarios. "It, to me, is a clear lack of respect for women and it's still treating women as objects to be obtained," Dogra said.